MEUCE European Film-Documentary Series: "Venice" (FIU)
MEUCE European Film-Documentary Series: "Venice" (FIU)
Event information

| | |
| --- | --- |
| Start: | |
| End: | |
| Venue: | FIU - Graham Center - GC 140 |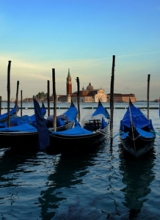 Venice (2012) France (in French - with subtitles in English) Director: Jaques Vichet
Presentation:
A unique city in the world, bathed by its canals, Venice has been a cradle of art and romanticism. Keeping alive its mysticism and magic for almost six centuries, its architecture still dazzles its visitors. Eurochannel and the MEUCE invite you to travel along its romantic "streets" and discover the secrets and history of the city in the documentary Venice.
Directed by Jacques Vichet—who has also directed documentaries about iconic landmarks such as Versailles—this documentary provides stunning views and interesting historical background. Gliding through Venice's canals, viewers are invited to discover its history and traditions, from the period of its commercial and military power to its current status as a major tourist attraction.
Venice is not only a city full of architectural works, such as the Doge's Palace, the famous Rialto Bridge and St. Mark's Place. It also has a romantic atmosphere, with its deserted canals, Jewish Ghetto and Florian coffee shop, a rendezvous for artists since 1720.
Eurochannel and MEUCE invite you to relax and enjoy one of the greatest cities in the world, listed as a World Heritage Site, in a first-class visual experience!

For Driving Directions, Map and Parking Information, click here

To view flyer, click here

To view photo gallery, click here

****

This semester, the Miami-Florida European Center of Excellence, and European Studies at FIU, partner with Eurochannel, the European channel TV, to screen a series of European films and documentaries.