MEUCE will be present at eMerge Americas Conference on May 4-5 (FIU)
MEUCE will be present at eMerge Americas Conference on May 4-5 (FIU)
Event information

| | |
| --- | --- |
| Start: | |
| End: | |
| Venue: | Miami Beach Convention Center - Booth B-18 |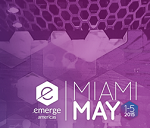 May 4-5: eMerge Americas Conference
Miami-Florida European Union Center of Excellence, Euraxess, and German Aerospace Center will be present and make presentations on EU Research and Innovation Funding-Horizon 2020

"eMerge Americas is a global idea exchange focusing on how technology and innovation are disrupting industries. The conference serves as a platform connecting revolutionary startups, cutting-edge ideas, and global industry leaders & investors across North America, Europe, and Latin America. It's five intensive, exhilarating days of interactive sessions, networking events in Miami's most iconic venues, and compelling presentations designed to spark conversation & unleash creativity." To learn more about the event or to see the agenda and list of speakers, visit www.emergeamericas.org

The Miami-Florida European Union Center of Excellence at FIU, EURAXESS, and German Arespoce Center will have the opportunity to participate and be present with a booth at eMerge Americas Conference. Two experts in EU Research and Innovation Funding will be at our booth on May 4 and 5:
Dr. Olaf Heilmayer, Head of Unit, German Aerospace Center, Multilateral Cooperation, Monitoring, European and International Cooperation, Bonn, Germany
They will present funding possibilities for US researchers and company decision makers, and will answer your questions on Horizon 2020, Euraxess, ERC and Marie Curie Programs.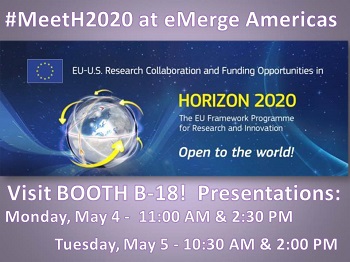 ► We look forward to seeing you at our booth B18 (Section B)

Four presentations on Horizon 2020 and EU Research & Innovation Funding will take place at booth B 18 the following days and times:

May 4: 11:00 a.m. and 2:30 p.m.

May 5 : 10:30 a.m. and 2:00 p.m.

► To view our location, click here




► This program is part of BILAT USA 2.0
The Miami-Florida European Union Center of Excellence is proud to be a partner in the BILAT USA 2.0 project designed to promote EU-U.S. collaboration in science, technology, and innovation (STI). For more information on BILAT USA 2.0, click here