Award Ceremony of "Chevalier das l'Ordre National de La Legion d'Honneur" to US Verterans
Award Ceremony of "Chevalier das l'Ordre National de La Legion d'Honneur" to US Verterans
Event information

| | |
| --- | --- |
| Start: | |
| End: | |
| Venue: | FIU Modesto A. Maidique Campus | Frost Art Museum |

The French Consulate General in Miami will be awarding "Chevalier dans l'Ordre National de la Legion d'Honneur" (Knight in the National Order of the Legion of Honor) to 19 U.S. veterans who fought alongside France during World War II.

The ceremony will take place on Friday, February 12, 2016 from 11:00am – 12:00pm

This event is organized in partnership with The Honors College and the Frost Art Museum at FIU.
The Miami-Florida Jean Monnet Center of Excellence at FIU supports this event.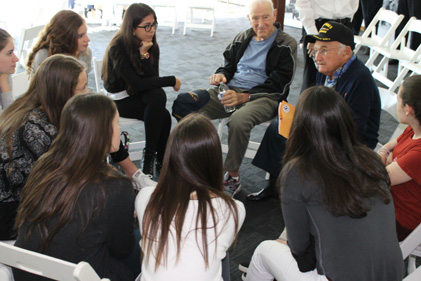 Students of Professor John Bailly's Study Abroad course had an hour-long meet-and-greet session with WWII Veterans in an open discussion format on Feb. 12, 2016. More than 30 students of ISPA joined them at FIU for this very special educational session. An Award ceremony honoring 6 WWII American followed at the Frost Art Museum.