Conversations over the Prison Wall: Intellectual Freedom and the Dawn of Democracy
Conversations over the Prison Wall: Intellectual Freedom and the Dawn of Democracy
Event information

| | |
| --- | --- |
| Start: | |
| End: | |
| Venue: | FIU Modesto A. Maidique Campus, GC 140 |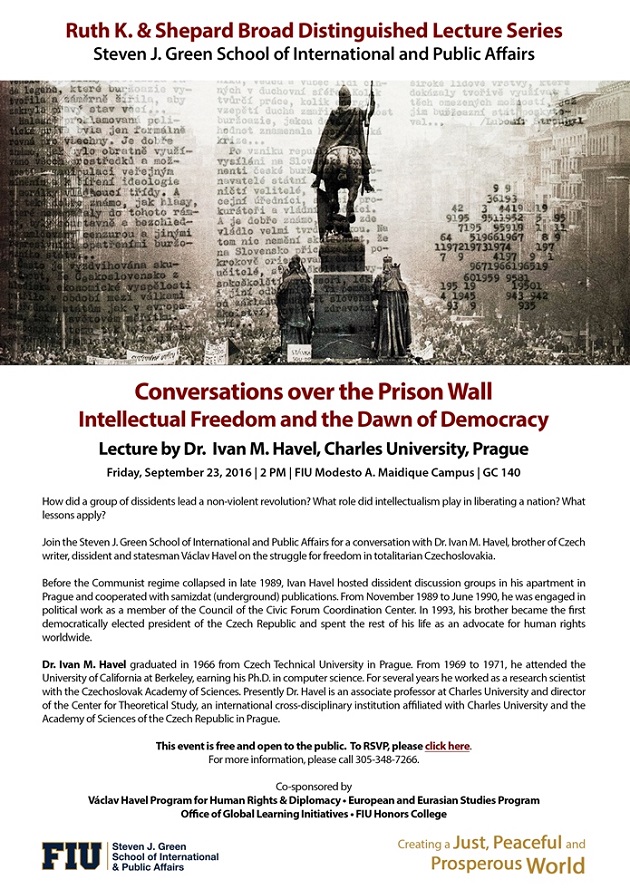 To view flyer, click here

Ruth K. & Shepard Broad Distinguished Lecture Series
Steven J. Green School of International and Public Affairs
Conversations over the Prison Wall
Intellectual Freedom and the Dawn of Democracy
Lecture by Dr. Ivan M. Havel, Charles University, Prague
Friday, September 23, 2016 | 2 PM | FIU Modesto A. Maidique Campus | GC 140
How did a group of dissidents lead a non-violent revolution? What role did intellectualism play in liberating a nation? What lessons apply today?
Join the Steven J. Green School of International and Public Affairs for a conversation with Dr. Ivan M. Havel, brother of Czech writer, dissident and statesman Václav Havel on the struggle for freedom in totalitarian Czechoslovakia.
Before the Communist regime collapsed in late 1989, Ivan Havel hosted dissident discussion groups in his apartment in Prague and cooperated with samizdat (underground) publications. From November 1989 to June 1990, he was engaged in political work as a member of the Council of the Civic Forum Coordination Center. In 1993, his brother became the first democratically elected president of the Czech Republic and spent the rest of his life as an advocate for human rights worldwide.
Dr. Ivan M. Havel graduated in 1966 from Czech Technical University in Prague. From 1969 to 1971, he attended the University of California at Berkeley, earning his Ph.D. in computer science. For several years he worked as a research scientist with the Czechoslovak Academy of Sciences. Presently Dr. Havel is an associate professor at Charles University and director of the Center for Theoretical Study, an international cross-disciplinary institution affiliated with Charles University and the Academy of Sciences of the Czech Republic in Prague.
This event is free and open to the public. To RSVP, please click here For more information, please call 305-348-7266.
Co-sponsored by: Václav Havel Program for Human Rights & Diplomacy • European and Eurasian Studies Program Office of Global Learning Initiatives • FIU Honors College