Earthly Reflections of Paradise: Islamic Gardens of Spain, Ottoman Turkey and Beyond
Earthly Reflections of Paradise: Islamic Gardens of Spain, Ottoman Turkey and Beyond
Event information

| | |
| --- | --- |
| Start: | |
| End: | |
| Venue: | Coral Gables Museum, 285 Aragon Ave, Coral Gables |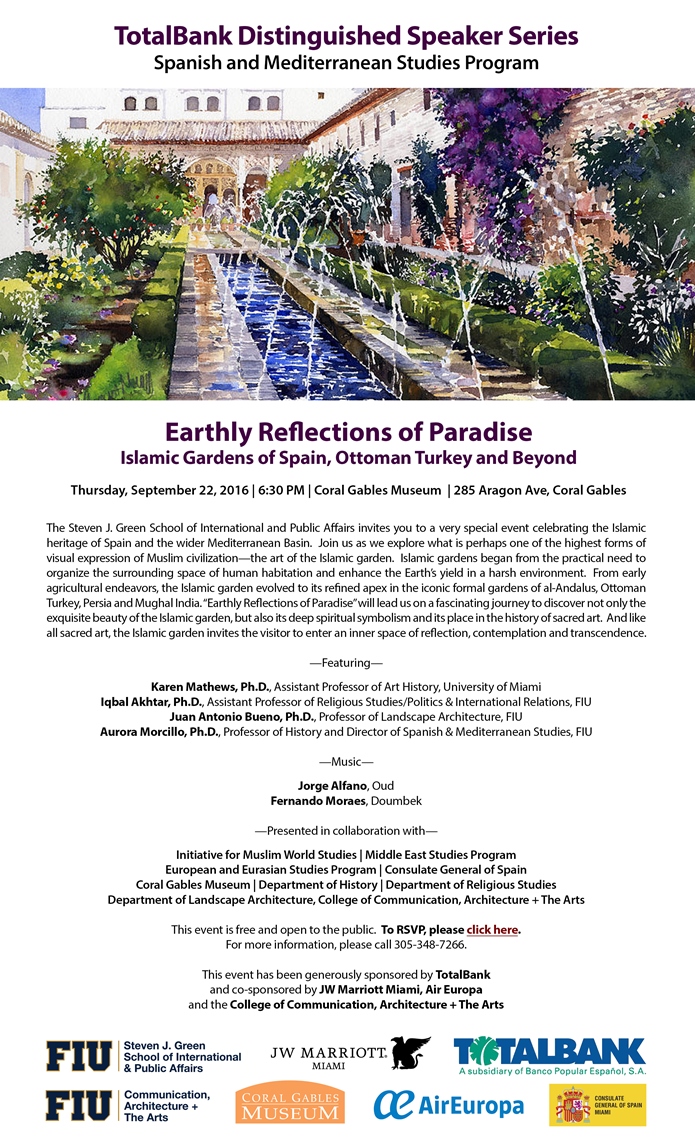 To view flyer, click here
TotalBank Distinguished Speaker Series
Spanish and Mediterranean Studies Program

Earthly Reflections of Paradise
Islamic Gardens of Spain, Ottoman Turkey and Beyond

Thursday, September 22, 2016 | 6:30 PM | Coral Gables Museum | 285 Aragon Ave, Coral Gables
The Steven J. Green School of International and Public Affairs invites you to a very special event celebrating the Islamic heritage of Spain and the wider Mediterranean Basin. Join us as we explore what is perhaps one of the highest forms of visual expression of Muslim civilization—the art of the Islamic garden. Islamic gardens began from the practical need to organize the surrounding space of human habitation and enhance the Earth's yield in a harsh environment. From early agricultural endeavors, the Islamic garden evolved to its refined apex in the iconic formal gardens of al-Andalus, Ottoman Turkey, Persia and Mughal India. "Earthly Reflections of Paradise" will lead us on a fascinating journey to discover not only the exquisite beauty of the Islamic garden, but also its deep spiritual symbolism and its place in the history of sacred art. And like all sacred art, the Islamic garden invites the visitor to enter an inner space of reflection, contemplation and transcendence.
—Featuring—
Karen Mathews, Ph.D., Assistant Professor of Art History, University of Miami
Iqbal Akhtar, Ph.D., Assistant Professor of Religious Studies/Politics & International Relations, FIU
Juan Antonio Bueno, Ph.D., Professor of Landscape Architecture, FIU
Aurora Morcillo, Ph.D., Professor of History and Director of Spanish & Mediterranean Studies, FIU
—Music—
Jorge Alfano, Oud
Fernando Moraes, Doumbek
—Presented in collaboration with—
Initiative for Muslim World Studies | Middle East Studies Program European and Eurasian Studies Program | Consulate General of Spain Coral Gables Museum | Department of History | Department of Religious Studies Department of Landscape Architecture, College of Communication, Architecture + The Arts
This event is free and open to the public. To RSVP, please click here For more information, please call 305-348-7266.
This event has been generously sponsored by TotalBank and co-sponsored by JW Marriott Miami, Air Europa and the College of Communication, Architecture + The Arts