Panel Discussion "Gun Control: International Perspectives
Panel Discussion "Gun Control: International Perspectives
Event information

| | |
| --- | --- |
| Start: | |
| End: | |
| Venue: | FIU - Modesto A. Maidique Campus - College of Law - Courtroom RDB 1000 |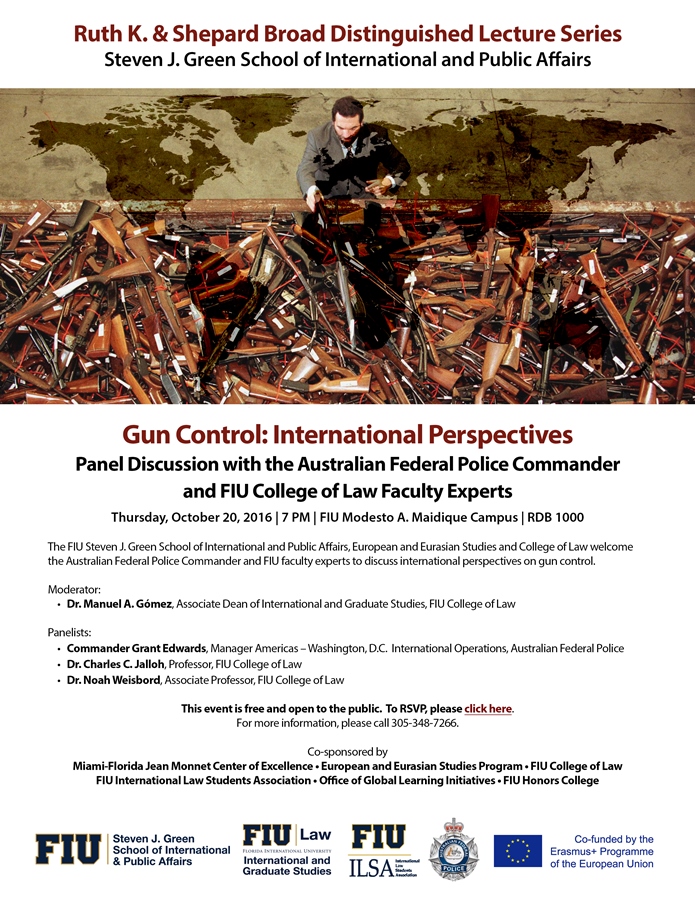 Ruth K. & Shepard Broad Distinguished Lecture Series
Steven J. Green School of International and Public Affairs

Gun Control: International Perspectives
Panel Discussion with the Australian Federal Police Commander and FIU College of Law Faculty Experts

Thursday, October 20, 2016 | 7 PM | FIU Modesto A. Maidique Campus | College of Law - Large Courtroom RDB 1000

The FIU Steven J. Green School of International and Public Affairs, European and Eurasian Studies and College of Law welcome the Australian Federal Police Commander and FIU faculty experts to discuss international perspectives on gun control.

Moderator:

Prof. Manuel A. Gómez, Associate Dean of International and Graduate Studies, FIU College of Law

Panelists:

Commander Grant Edwards, Manager Americas – Washington, D.C. International Operations, Australian Federal Police
Prof. Charles C. Jalloh, Professor, FIU College of Law
Prof. Noah Weisbord, Associate Professor, FIU College of Law

This event is free and open to the public. To RSVP, please click here.

For more information, please call 305-348-7266.

Co-sponsored by
Miami-Florida Jean Monnet Center of Excellence • European and Eurasian Studies Program • FIU College of Law • FIU International Law Students Association • Office of Global Learning Initiatives • FIU Honors College

► To view flyer, click here
► To view bios, click here

-----------------------------------------------------------------------------------------------

► VIPs (By invitation only), click here
► For VIP driving directions, click here
► To view FIU map and directions, click here