Protracted Conflicts Sovereignty and Democratization in the Post-Soviet Era
Protracted Conflicts Sovereignty and Democratization in the Post-Soviet Era
Event information

| | |
| --- | --- |
| Start: | |
| End: | |
| Venue: | FIU - Graham Center, Room 279A |
To view flyer, click here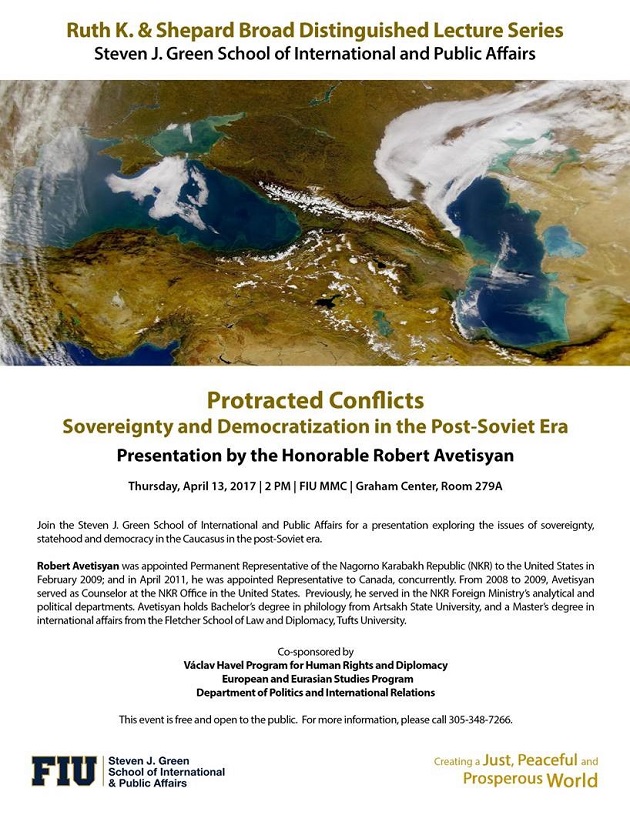 Ruth K. & Shepard Broad Distinguished Lecture Series Steven J. Green School of International and Public Affairs
Protracted Conflicts
Sovereignty and Democratization in the Post-Soviet Era
Presentation by the Honorable Robert Avetisyan
Thursday, April 13, 2017 | 2 PM | FIU MMC | Graham Center, Room 279A
Join the Steven J. Green School of International and Public Affairs for a presentation exploring the issues of sovereignty, statehood and democracy in the Caucasus in the post-Soviet era.
Robert Avetisyan was appointed Permanent Representative of the Nagorno Karabakh Republic (NKR) to the United States in February 2009; and in April 2011, he was appointed Representative to Canada, concurrently. From 2008 to 2009, Avetisyan served as Counselor at the NKR Office in the United States. Previously, he served in the NKR Foreign Ministry's analytical and political departments. Avetisyan holds Bachelor's degree in philology from Artsakh State University, and a Master's degree in international affairs from the Fletcher School of Law and Diplomacy, Tufts University.
Co-sponsored by
Václav Havel Program for Human Rights and Diplomacy
European and Eurasian Studies Program
Department of Politics and International Relations

This event is free and open to the public. For more information, please call 305-348-7266.