The Great War in Broad Outlines
The Great War in Broad Outlines
Event information

| | |
| --- | --- |
| Start: | |
| End: | |
| Venue: | FIU Modesto A. Maidique Campus, Green School Gallery (SIPA First Floor) |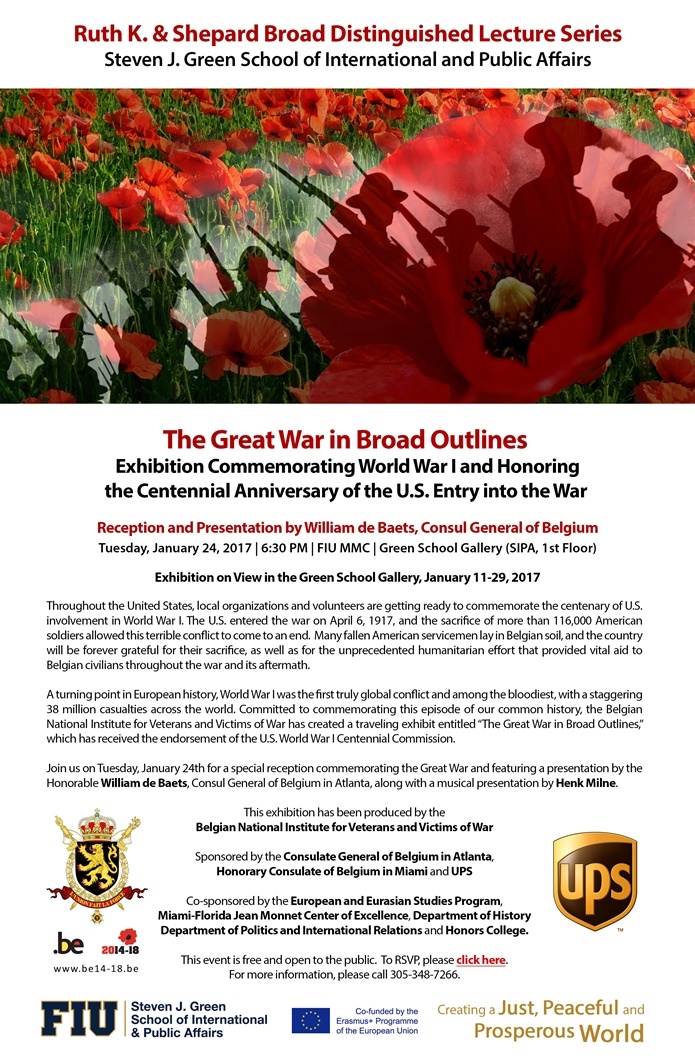 Ruth K. & Shepard Broad Distinguished Lecture Series
Steven J. Green School of International and Public Affairs

The Great War in Broad Outlines
Exhibition Commemorating World War I and Honoring the Centennial Anniversary of the U.S. Entry into the War
Reception and Presentation by William de Baets, Consul General of Belgium

Tuesday, January 24, 2017 | 6:30 PM | FIU MMC | Green School Gallery (SIPA, 1st Floor)
Exhibition on View in the Green School Gallery, January 11-29, 2017
Throughout the United States, local organizations and volunteers are getting ready to commemorate the centenary of U.S. involvement in World War I. The U.S. entered the war on April 6, 1917, and the sacrifice of more than 116,000 American soldiers allowed this terrible conflict to come to an end. Many fallen American servicemen lay in Belgian soil, and the country will be forever grateful for their sacrifice, as well as for the unprecedented humanitarian effort that provided vital aid to Belgian civilians throughout the war and its aftermath.
A turning point in European history, World War I was the first truly global conflict and among the bloodiest, with a staggering 38 million casualties across the world. Committed to commemorating this episode of our common history, the Belgian National Institute for Veterans and Victims of War has created a traveling exhibit entitled "The Great War in Great Outlines," which has received the endorsement of the U.S. World War I Centennial Commission.
Join us on Tuesday, January 24th for a special reception commemorating the Great War and featuring a presentation by the Honorable William de Baets, Consul General of Belgium in Atlanta along with a musical presentation by Henk Milne.
This exhibition has been produced by the Belgian National Institute for Veterans and Victims of War
Sponsored by the Consulate General of Belgium in Atlanta, Honorary Consulate of Belgium in Miami and UPS
Co-sponsored by the European and Eurasian Studies Program, Miami-Florida Jean Monnet Center of Excellence, Department of History, Department of Politics and International Relations and Honors College.
This event is free and open to the public. To RSVP, please click here.
For more information, please call 305-348-7266.
To view flyer, click here