Local Florida Euro Challenge Competition for HS | Virtually
Local Florida Euro Challenge Competition for HS | Virtually
Event information

| | |
| --- | --- |
| Start: | |
| End: | |
| Venue: | Virtually |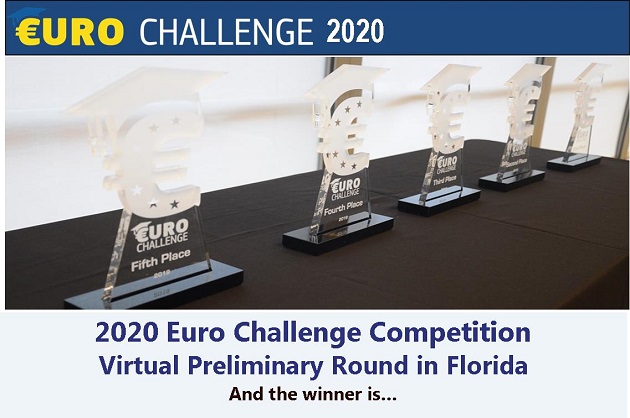 Despite the bad conditions in Florida and New York, amid the Covid-19 pandemic, we were able to organize virtually the preliminary Euro Challenge Competition for Florida High Schools this year. The Judges in New York were able to judge the Florida schools we recruited via video conference on March 31st and April 8th. One school has been selected to advance to the semi-finals and finals.

Congratulation to Gulliver Preparatory School

which won the preliminary Euro Challenge Competition round in Florida this year. It has been three years in a row that the school won the preliminary round in Florida and advanced to New York. We are proud that Gulliver Preparatory represents Florida. We want to thank the school, its students and teacher for their hard work, and especially their teacher, Mr. Kamal James, for his dedication and leadership.
We wish all the best to the school for the semifinal and final rounds in New-York, which this year, amid the Covid-19, will be organized virtually at the end of May. This is the 1st time in 15 years that the finals will be held remotely in New York for high schools from 16 U.S. states: Connecticut, Florida, Illinois, Indiana, Massachusetts, Maryland, Michigan, Minnesota, New Jersey, New York, North Carolina, Pennsylvania, Texas, Virginia, Washington, Wisconsin, and the District of Colombia.
Go Florida and Gulliver Preparatory School!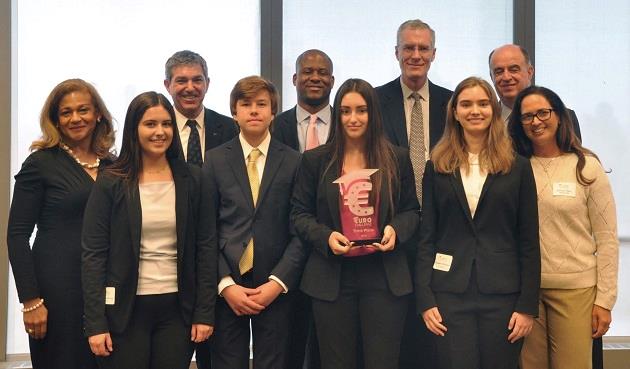 Gulliver Preparatory School at the 2019 Euro Challenge Competition in NY - Winning 3rd place at the Final

The Euro Challenge is a national competition for cash prizes where 9th and 10th grade high school students test their knowledge and understanding of the European economy and the Euro, the currency shared by many of the 27 countries of the European Union.

The Miami Florida Jean Monnet Center of Excellence is proud to organize the Florida regional competition for the Euro Challenge and partners with the Federal Reserve Bank of Atlanta-Miami Branch. The Miami-Florida Jean Monnet Center of Excellence has been participating in this wonderful project since the beginning. 2020 will mark the 15th anniversary of the Euro Challenge competition.
Christine I. Caly-Sanchez, Associate Director at the MFJMCE, is the recruiter and organizer of the competition in Florida. She has very proudly stated, "Since 2008, MFJMCE has selected one hundred seven Florida high schools from Miami-Dade, Broward, Palm Beach, St. Lucie, Lee, Or-ange, and Alachua counties, and sent twenty-three to New York to compete nationally. One hundred twenty four students have gone to New York representing their Florida schools. This competition has be-come a showcase for our Florida schools. We are extremely proud of our schools in Florida."

To learn more about Euro Challenge, please visit euro-challenge.org

For more information on the competition in Florida, please contact Christine I. Caly-Sanchez at calyc@fiu.edu