MFJMCE: Local Florida Euro Challenge Competition
MFJMCE: Local Florida Euro Challenge Competition
Event information

| | |
| --- | --- |
| Start: | |
| End: | |
| Venue: | FIU-MMC-GC 243 |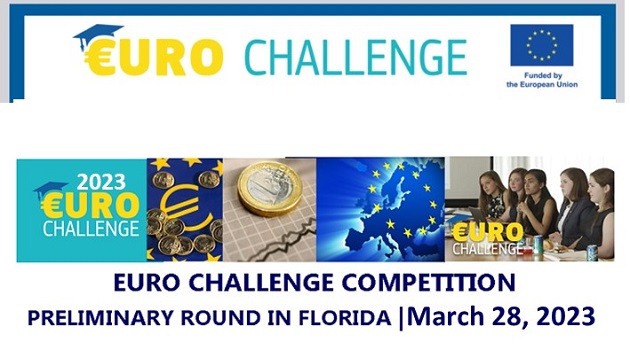 Launched in 2006, Euro Challenge is an exciting educational opportunity for 9th and 10th grade high school students to learn about the European Union (EU) and the euro. Teams of three to five students are asked to make 15-minute presentations answering specific questions about the European economy and the single currency, the euro. They are also asked to pick one member country of the "euro area" (the 20 EU member countries that have adopted the euro so far), to examine an economic problem at the country level, and to identify policies for responding to that problem.

Teams can choose one of the following economic-related challenges:

What Role Does Fiscal Policy Play in Promoting Economic Growth?
Managing Migration Flows
Inequality, Social Mobility and the Gender Gap
Innovating for Long-Term Growth and the Future of Work
NEW Reducing Energy Dependence on Russia
PRELIMINARY ROUND IN FLORIDA: MARCH 28, 2023

In Florida, the Miami-Florida Jean Monnet Center of Excellence at FIU coordinates the competition. This year, high schools from different counties in Florida will compete either virtually or on site on March 28, 2023

The winners will advance to the semi-final and final rounds in New York City the last week of April 2023.


Made possible through generous support from the European Commission.