With the presentation of his credentials to President Barack Obama at a White House ceremony today, João Vale de Almeida formally became the new European Union Ambassador and Head of the EU Delegation to the United States.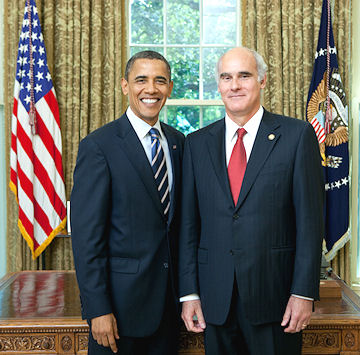 In his Presentation of Credentials letter to the US President, Ambassador Vale de Almeida said that he was enthusiastic about the continued evolution of the US-EU relationship which, in range and substance, has progressed dramatically over two decades. "The emergence of new powers has led to predictions that transatlantic relations will be less important in the future, but this view overlooks the enormous stock we have vested in one another," he said. "Our common values and shared goals are strengthened by our deeply interdependent economies and the longstanding ties between our peoples. They are also reflected in the trust and mutual confidence forged through many years of close cooperation between our administrations."
Noting that he will work with the United States to define a results-oriented agenda and referring to President Obama's commitment to a more effective transatlantic relationship, Ambassador Vale de Almeida stressed: "My ambition is to move beyond what exists today, to build a stronger and even more positive EU-US agenda with solid bilateral and global pillars. An agenda that unlocks the full potential of our economies, promotes joint action in foreign policy, and enhances our capacity as global partners."
Ambassador Vale de Almeida will be the first EU Ambassador to the United States since the Lisbon Treaty entered into force on December 1, 2009. In this capacity, he represents European Commission President José Manuel Barroso and President of the European Council Herman Van Rompuy, under the authority of the High Representative for Foreign Affairs and Security Policy Catherine Ashton. Read more