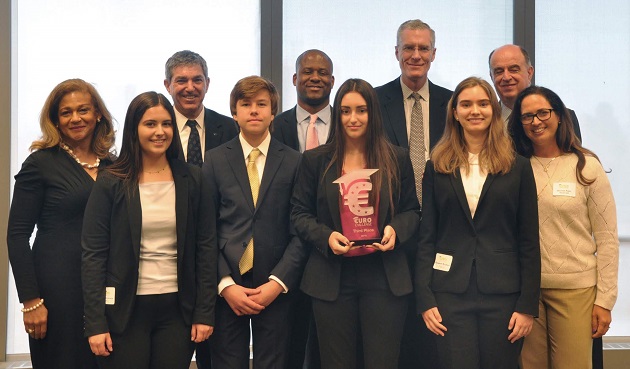 Congratulations to our Florida team, Gulliver Preparatory School, for winning third place at the final in the 2019 Euro Challenge Competition! We are proud of you! You are great! Thanks to their teacher, Kamal James, for his leadership. Check out the other top schools that made it to the Final Round here: https:/bit.ly2Ya2E8Z #EuroC2019 @EuroChallenge2019 @EUintheUS @MoodysCorp

Five High School Teams Receive Awards for Their Euro Knowledge
Students from Princeton High School in Princeton, New Jersey won the final round of this year's Euro Challenge competition, which was held at the Federal Reserve Bank of New York on May 2nd. They led a total of five winning teams, including West Windsor-Plainsboro High School North, Plainsboro, NJ (2nd place), Gulliver Preparatory High School, Miami, Florida (3rd place), Charlotte Country Day School, Charlotte, NC (4th place), and Delbarton High School, Morristown, NJ (5th place) that beat top teams from 20 other high schools by showcasing their financial literacy and specific knowledge of countries in the euro area.
This year's contest marked the 14th iteration of the Euro Challenge, which continues to expand nationally. More than 90 teams participated overall, representing high schools from 15 U.S. States. Teams consisted of 3-5 9th or 10th grade students, each of whom have spent months researching European economic policy and history with the help of mentors from their schools and resources provided by the EU Delegation to the U.S. Specifically, these teams presented on the overall economic situation of the euro area and then focused on an economic challenge facing one of the 19 euro area countries. Finally, teams had to answer questions from a distinguished panel of judges to showcase their grasp of economic issues and policy trade-offs.
"By participating in this unique educational contest, high school students from across the United States learn about the European Union – the largest economic partner of the United States – and the 19 countries that share its single currency, the euro," explained European Union Ambassador to the United States Stavros Lambrinidis. "It was truly impressive to watch today's competition and to see the level of performance and creativity in addressing complex economic issues. On the 20th anniversary of the euro, I am proud to say that over 7,000 students have now participated in this exciting competition."
The five winning teams receive monetary awards generously provided by the Moody's Foundation. The first- and second-placed teams will additionally receive a free trip to Washington, DC, also sponsored by the Moody's Foundation, to present solutions to the embassy of the country they researched.
The Euro Challenge is a program launched and supported by the Delegation of the European Union to the United States, and is managed on the Delegation's behalf by W!se (Working in Support of Education). The Moody's Foundation sponsors the monetary awards. The Federal Reserve Bank of New York serves as program advisor.
The Euro Challenge is supported by BNP Paribas, Florida International University, the University of Pittsburgh, the University of Illinois, the University of Texas at Austin, University of Washington, the Federal Reserve Bank of Chicago (Detroit Branch), the World Affairs Council of Charlotte, the World Affairs Council of Seattle, and the Federal Reserve Bank of Atlanta (Miami Branch).
(Article for the Delegation of the European Union to the United States)