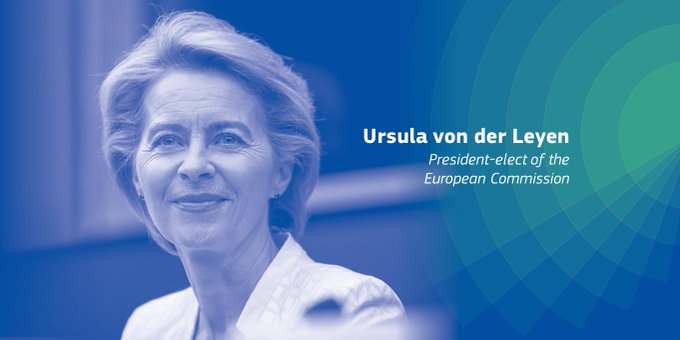 Towards a new Commission (2019-2024)
________________________________________________________________________________________________________________________________________

"We will do it the European way"

On 16 July 2019 the European Parliament elected Ursula von der Leyen the future President of the European Commission. She is the first woman to be President-elect of the European Commission.
A European by heart and by conviction, Ursula von der Leyen announced that she will focus on an ambitious climate agenda to make Europe the first climate-neutral continent by 2050. She also committed to working closely with the European Parliament to strengthen democracy and a fair social market economy in Europe. Ursula von der Leyen also gave a very personal insight into her idea of Europe's path amid global challenges: "We need to do it the European way".
Her full political guidelines and her speech can be found here.
Ursula von der Leyen intends to select a team of Commissioners composed of an equal number of women and men, based on candidates suggested by the Heads of State or Government. To take office, the list of Commissioners-designate has to be agreed by the Council and the European Parliament needs to give its consent to the new European Commission (2019-2024) as a whole.
Born in Brussels in 1958, Ursula von der Leyen is a doctor and was member of the German government from 2005 to 2019.
________________________________________________________________________________________________________________________________________

President-elect @vonderleyen has put forward priorities for her mandate:

A European Green Deal
An economy that works for people
A Europe fit for the digital age
Protecting our European way of life
A stronger Europe in the world
A new push for European democracy
________________________________________________________________________________________________________________________________________

For more information, go to the official website of the European Commission, here