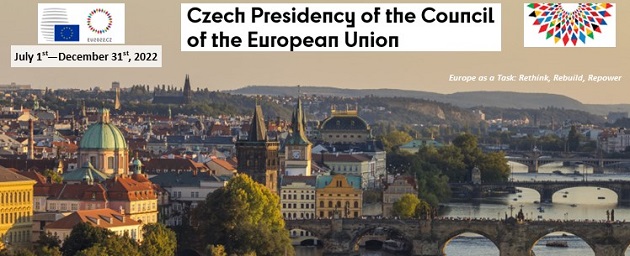 July 1 - December 31, 2022

On July 1st, 2022, the Czech Republic took over the Presidency of the Council of the European Union for six months. Its motto is "Europe as a Task: Rethink, Rebuild, Repower."

This is the second time that the Czech Republic has held the presidency of the Council of the European Union. The first time was in 2009.

Presidency occurs under leadership of Petr Fiala's Cabinet

Programme

The programme of the Czech Presidency of the EU Council has two parts:

Priorities of the Czech Presidency,
Programme of the Czech Presidency under the EU Council formations.

Priorities

The first part of the programme defines five priority areas that have arisen from a discussion at the highest political level.

Managing the refugee crisis and post-war reconstruction of Ukraine
Energy security
Strengthening European defence capabilities and cybersecurity
Strategic resilience of the European economy
Resilience of democratic institutions

___________________________________________________________________________________________

► For more information on the Czech Presidency of the Council of the European Union, click here



___________________________________________________________________________________________

The Czech Republic will preside over the Council of the European Union from 1 July to 31 December 2022. The six-month Czech Presidency follows France that led the Council in the first half of the year, and will be followed by Swedish Presidency from 1 January till 30 June 2023. Those three states together form the presidency trio and have created a joint programme of their presidencies.
Czech Republic is part of the 11th Presidency Trio, together with France and Sweden. This trio is the first in the third cycle of presidencies

► For more information on the trio program, click here