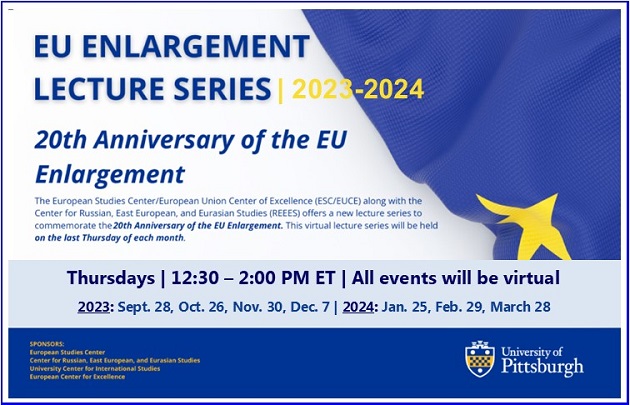 The European Studies Center/European Union Center of Excellence (ESC/EUCE) along with the Center for Russian, East European, and Eurasian Studies (REEES) at Pitt offers a new lecture series to commemorate the20th Anniversary of the EU Enlargement. This virtual lecture series will be held on the last Thursday of each month this year. Each session is recorded and later posted on the internet with suggested additional readings and further resources

2024 marks the 20th anniversary of the biggest enlargement of the European Union in its history. Ten countries, mainly former socialist Eastern European states, almost doubled the EU from 15 to 25 member states. May 1, 2004, was the triumphal return to the European Family for many. But for some, it initiated a process of disenchantment with the EU and the West.

The Miami-Florida Jean Monnet Center of Excellence at FIU, along with other European Union Centers of Excellence from the U.S. will participate.
In the Fall semester 2023, we will be able to connect with experts on Europe via virtual roundtable for four conversations from 12:30 PM to 2:00 PM Eastern time zone on the last Thursday of each month:
Below are the dates, titles, and names of organizers. More information will be available before each Conversation.

Thursdays | 12:30 – 2:00 PM ET | All events will be virtual

September 28 | 12:30 p.m. - 2:00 p.m.
"EU Enlargement - Spotlight: Poland"
Register Here


October 26 | 12:30 p.m. - 2:00 p.m.
"EU Enlargement - Spotlight: Czech Republic"
Register Here


November 30| 12:30 p.m. - 2:00 p.m.
"EU Enlargement - Spotlight: Slovakia"
Register Here


December 7 | 12:30 p.m. - 2:00 p.m.
"Spotlight: Baltic States (Lituania, Latvia, and Estonia)"
Register Here


To view flyer of 2023-2024 program, click here
________________________________________________________________________________________

These events are free and open to all FIU students
Prior RSVP at calyc@fiu.edu is mandatory to join the conversation
_________________________________________________________________________________________
Hosted by: European Studies Center, a Jean Monnet European Union Center of Excellence at the University of Pittsburgh

Co-sponsors:

Miami-Florida Jean Monnet European Center of Excellence, Florida International University;
EU Center at the University of Illinois at Urbana-Champagne;
Center for European Studies at the University of Florida;
Center for European Studies at the University of Texas – Austin;
Center for European and Transatlantic Studies at the Georgia Institute of Technology