MEUCE: Opening Ceremonies (FIU)
MEUCE: Opening Ceremonies (FIU)
Event information

| | |
| --- | --- |
| Start: | |
| End: | |
| Venue: | Graham Center East Ballroom |
Florida International University and University of Miami partner on European Union Center
The inauguration of the FIU/University of Miami (UM) European Union Center, a prestigious "think tank" focusing on economic, political and social issues related to the European Union (EU), was held on Tues., Sept. 18, at University Park at a ceremony that both university presidents attended.
"The European Union Center is significant to both of our institutions because it gives Miami's two research universities a new opportunity to work together on a project of significant importance to our universities and our country," said FIU President Modesto A. Maidique. "The Center will strengthen our institutions' research capabilities and international outreach efforts at a time of increasing global interdependence. We're privileged to be able to collaborate directly with our counterparts in the United States and Europe."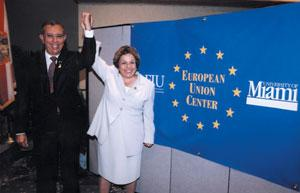 FIU President Modesto A. Maidique and UM President Donna E. Shalala Founded in 1998, the network of EU Centers at U.S. universities seeks to promote advanced study of the EU to build stronger ties between Europe and the United States. FIU and UM were among 15 universities in the United States to be awarded a $425,000 grant for a European Union Center by the European Commission. Leading the effort to secure the funding were the School of International Studies at UM and the Center for Transnational and Comparative Studies (TCS) at FIU.
The new center will be headed by Ralph Clem, director of FIU's TCS and professor of International Relations, and Joaquin Roy, International Studies professor at UM. Joseph Jupille, professor of Political Science at FIU, and Vendulka Kubalkova, professor of International and Comparative Studies at UM, will serve as associate directors. The funding specifically provides for the development of new courses on the EU; financial assistance to graduate students and faculty pursuing research on related topics; academic conferences on EU related issues; public lectures; and outreach workshops for educators, journalists, media professionals and the greater Miami business community. A multi-language web site, apprising the community of events and issues concerning the EU, will be operational this fall.
Other universities selected for the European Union Center awards were: the University of California at Berkeley; the University of North Carolina at Chapel Hill, the University of Michigan, the University System of Georgia, the University of Oklahoma, the University of Pittsburgh, Syracuse University, Texas A&M University, the University of Washington (Seattle), the University of Wisconsin at Madison and a consortia of universities in New York City and the Washington, D.C. area.