European Exhibition: Riga and World Cities: Live Paintings by Aleksejs Naumovs and Kristaps Zarins
European Exhibition: Riga and World Cities: Live Paintings by Aleksejs Naumovs and Kristaps Zarins
Event information

| | |
| --- | --- |
| Start: | |
| End: | |
| Venue: | Miami Beach Urban Studios in Miami Beach, Florida |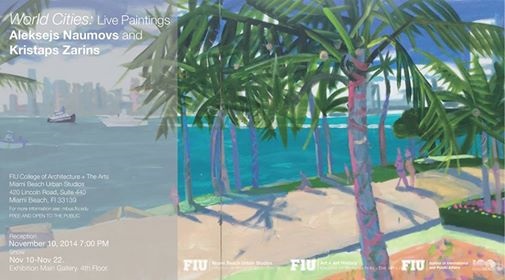 Nov. 10 - 21, 2014
Exhibition "Riga and World Cities. Live Painting and Another Horizon. Live Paintings"
The exhibition "Riga and World Cities. Live Paintings and Another Horizon. Live Paintings" introduce us to the work of two renowned Latvian painters, Aleksejs Naumovs and Kristaps Zarins. The event is a bridge between Riga (Latvia), Washington, and Miami, both in a literal and figurative sense. This joing exhibition focuses on urban landscapes and the unique atmosphere of global metropolises and historic European cities. The viewer is taken on a colorful journey from Riga to Washington, Miami, New York, Hong Kong, Venice, Paris and countless other destinations, all of which the artists have visited at some point in their lives.
Nov. 10 is the opening reception of the exhibition in Miami at FIU Miami Beach Urban Studios in Miami Beach.
Guest of honor: H.E. Andris Razans, Latvia's Ambassador to the U.S.
This event is organized by the Department of Art & History at FIU, the Miami Beach Urban Studios. It is sponsored by Embassy of Latvia to the U.S., and supported by the Miami-Florida European Union Center of Excellence, FIU.
To view photos gallery of the opening reception, click here