MEUCE/BILAT Workshop: Accelerating EU-US Business Collaboration in Health/e-Health R & I (FIU)
MEUCE/BILAT Workshop: Accelerating EU-US Business Collaboration in Health/e-Health R & I (FIU)
Event information

| | |
| --- | --- |
| Start: | |
| End: | |
| Venue: | Boston: Atlantic Wharf, Waterfront District |



You're invited to join us at this valuable (and FREE) workshop:


"Accelerating EU-US Business Collaboration in Health/e-Health
Research & Innovation: Opportunities, Barriers and Best Practices"

Friday, June 20th, 2014 - 8:30 AM - 5:30 PM
Venue: Atlantic Wharf, Waterfront District- Fort Point Room, 2nd Floor - 290 Congress Street, Boston, MA 02210
Benefits and goals of the workshop include:
Learn about funding and partnership opportunities under Horizon 2020, the largest European research and innovation program to date with an approximate budget of €80 billion over the next seven years. This program is FULLY OPEN to the US and other nations.
Contribute your expertise in focused discussions on transatlantic collaboration in the areas of research, technological development, and innovation (RTDI) with researchers, business executives, and innovators.
Hear from practioners in EU-funded programs detail their success and challenges.
Gain insights on key drivers for health/e-health innovation and promising areas for transatlantic cooperation. Click here to register and view the FULL agenda.
► To view detailed program, click here
► The workshop is free, however registration is mandatory. Deadline to register is Friday, June 13.
► To download all the presentations, click here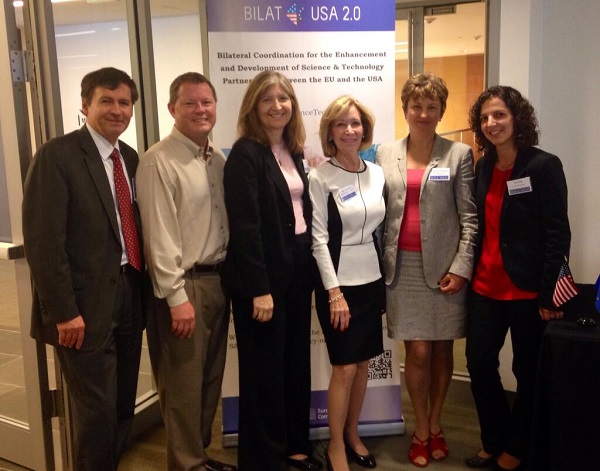 The workshop is organized as an activity of BILAT USA 2.0, a project funded by the European Commission under FP7 (GA No. 312081). BILAT USA 2.0 aims to enhance Science, Technology and Innovation (STI) collaboration between the EU and the US.