A Conversation on Private International Law, by Philippe Lortie, Hague Conference
A Conversation on Private International Law, by Philippe Lortie, Hague Conference
Event information

| | |
| --- | --- |
| Start: | |
| End: | |
| Venue: | FIU - College of Law - Courtroom 1000 |
To view flyer, click here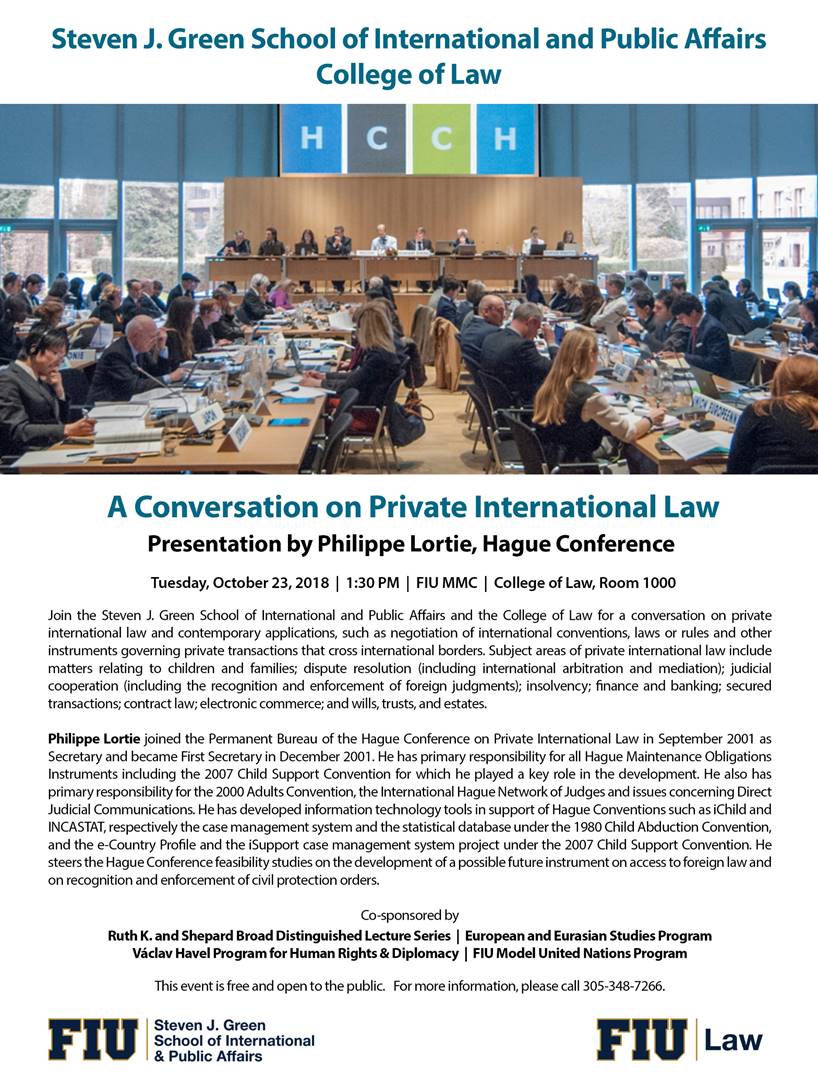 A Conversation on Private International Law
Presentation by Philippe Lortie, Hague Conference

Tuesday, October 23, 2018 | 1:30 PM | FIU MMC | College of Law, Room 1000

Join the Steven J. Green School of International and Public Affairs and the College of Law for a conversation on private international law and contemporary applications, such as negotiation of international conventions, laws or rules and other instruments governing private transactions that cross international borders. Subject areas of private international law include matters relating to children and families; dispute resolution (including international arbitration and mediation); judicial cooperation (including the recognition and enforcement of foreign judgments); insolvency; finance and banking; secured transactions; contract law; electronic commerce; and wills, trusts, and estates.
Philippe Lortie joined the Permanent Bureau of the Hague Conference on Private International Law in September 2001 as Secretary and became First Secretary in December 2001. He has primary responsibility for all Hague Maintenance Obligations Instruments including the 2007 Child Support Convention for which he played a key role in the development. He also has primary responsibility for the 2000 Adults Convention, the International Hague Network of Judges and issues concerning Direct Judicial Communications. He has developed information technology tools in support of Hague Conventions such as iChild and INCASTAT, respectively the case management system and the statistical database under the 1980 Child Abduction Convention, and the e-Country Profile and the iSupport case management system project under the 2007 Child Support Convention. He steers the Hague Conference feasibility studies on the development of a possible future instrument on access to foreign law and on recognition and enforcement of civil protection orders.
Co-sponsored by
Ruth K. and Shepard Broad Distinguished Lecture Series
European and Eurasian Studies Program
Václav Havel Program for Human Rights & Diplomacy
FIU Model United Nations Program
This event is free and open to the public. For more information, please call 305-348-7266.