EU & the Americas Conference: An inclusive and encompassing relationship
EU & the Americas Conference: An inclusive and encompassing relationship
Event information

| | |
| --- | --- |
| Start: | |
| End: | |
| Venue: | Downtown Miami |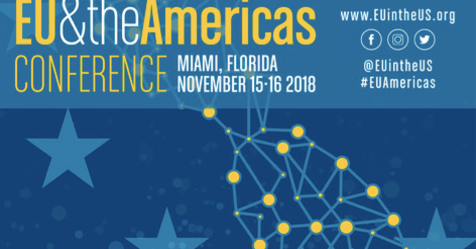 Nov. 15-16, 2018:Europe & the Americas: An inclusive and encompassing relationship
By invitation only

The Delegation of the European Union to the United States is organizing a two-day conference where the European Union and leading stakeholders from throughout South Florida, Latin America and the Caribbean will discuss cooperative approaches and shared challenges from disaster recovery and resiliency to democracy, human rights and trade.

Thursday, November 15 afternoon

2:30 p.m. Theme 1: Responding to challenges: A relationship rooted in concrete cooperation

Panel 1: Disaster Prevention, preparedness and response as a new paradigm under the impact of Climate Change

Panel 2: Mobilization of Resources: Resilience, Insurance, and Rebuilding

Friday, November 16

9 a.m. Opening of Day 2

Theme #2: Advancing Democracy, the Rule of Law and Human Rights in the Western Hemisphere Panel 1: Promoting Democratic and Transparent Elections

10:30 a.m. Special Presentation: Dividends of Peace

Panel 2: Human Rights and the Rule of Law in the Americas: Successes and Challenges

2:00 Theme #3: Opportunities for All: Economic Integration

2:30 Panel 1: Economic Partnerships in the Region: Delivering on Economic Opportunities

Panel 2: Thinking Beyond NAFTA: EU Trade for All as Reflected in Regional Agreements

For more information, click here, contact Christine I. Caly-Sanchez at calyc@fiu.edu

This event is organized by the Delegation of the European Union to the United States. The Miami-Florida Jean Monnet Center of Excellence supports this event.