Europe on the Big Screen: Lost in Paris (French Film) - (Weather permitting)
Europe on the Big Screen: Lost in Paris (French Film) - (Weather permitting)
Event information

| | |
| --- | --- |
| Start: | |
| End: | |
| Venue: | Miami Beach - WALLCAST New World Center SoundScape Park |
GETTING TO KNOW EUROPE: EUROPE ON THE BIG SCREEN

Every Thursday evening, from 8 to 10 p.m., and from May 10 to 31, weather permitting, we invite you to a free outdoor WALLCAST movie at the New World Center Soundscape Park in Miami Beach. 'Lost in Paris' is the second European Film we premiere during our 'Getting to Know Europe: Europe on the Big Screen' Program.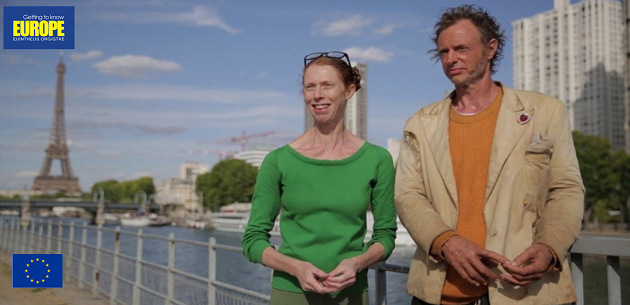 Thursday, May 17, 2018 | 8:00 p.m. - 9:30 p.m. - (Weather permitting)
French Film: Lost in Paris (Comedy)

► To view flyer, click here
► To RSVP, click here

Join us for this comedy on the lawn in front of the New World Symphony's WALLCAST, a soaring, 7,000-square-foot projection wall that uses striking visual and audio technology. Make sure to bring blankets, beach chairs and a picnic, and get there early so you can set up.

Open and free to the Public
___________________________________________________________________________________________
Synopsis:
Filmed in Dominique Abel and Fiona Gordon's signature whimsical style, LOST IN PARIS stars the filmmakers as a small-town Canadian librarian and a strangely seductive, oddly egotistical vagabond. When Fiona's (Gordon) orderly life is disrupted by a letter of distress from her 88-year-old Aunt Martha (delightfully portrayed by Academy Award (R)-nominee Emmanuelle Riva) who is living in Paris, Fiona hops on the first plane she can and arrives only to discover that Martha has disappeared. In an avalanche of spectacular disasters, she encounters Dom (Abel), the affable, but annoying tramp who just won't leave her alone. Replete with the amazing antics and intricately choreographed slapstick that has come to define Abel and Gordon's work, LOST IN PARIS is a wondrously fun and hectic tale of peculiar people finding love while lost in the City of Lights.

___________________________________________________________________________________________

This event is jointly sponsored by the Miami-Florida Jean Monnet Center of Excellence, FIU and the diplomacy EU-grant Getting to Know Europe.

With the support of Miami Beach Department of Tourism, Culture and Economic Development, Cultural Affairs Program, Cultural Arts Councils and The Miami Beach Mayor and Commissioners, the New World Symphony, America's Orchestral Academy, and the Consulate General of France in Miami, and the Cultural Services of the French Embassy in the United States-Miami Office, FIU's European & Eurasian Studies Program, the European Student Association, and CSO.

This project has received funding from the European Commission under the grant "Getting to Know Europe"