The First World War and the Making of the Modern Middle East
The First World War and the Making of the Modern Middle East
Event information

| | |
| --- | --- |
| Start: | |
| End: | |
| Venue: | FIU Modesto A. Maidique Campus, GC 243 |
To view flyer, click here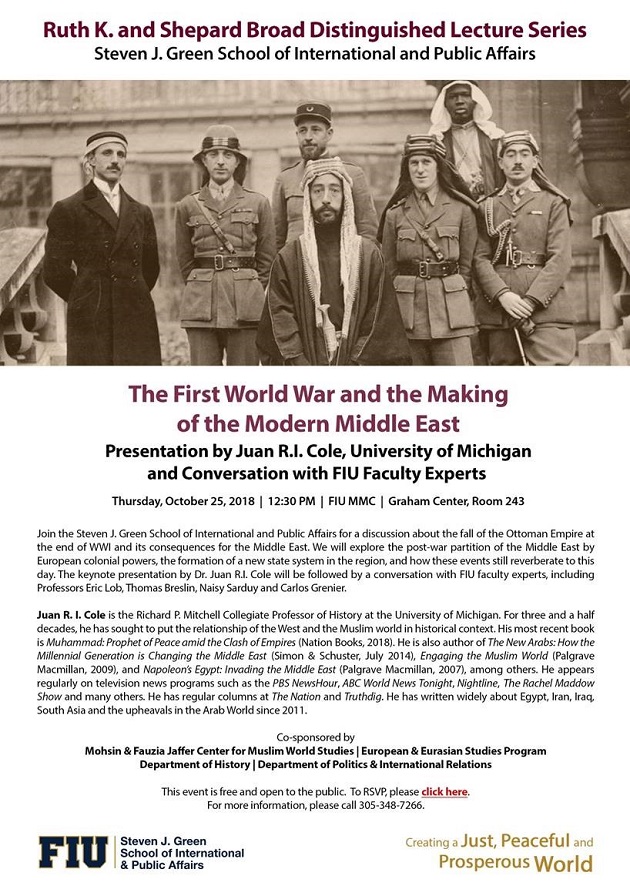 Ruth K. and Shepard Broad Distinguished Lecture Series
Steven J. Green School of International and Public Affairs

The First World War and the Making of the Modern Middle East

Presentation by Juan R.I. Cole, University of Michigan and Conversation with FIU Faculty Experts

Thursday, October 25, 2018 | 12:30 PM | FIU MMC | Graham Center, Room 243

Join the Steven J. Green School of International and Public Affairs for a discussion about the fall of the Ottoman Empire at the end of WWI and its consequences for the Middle East. We will explore the post-war partition of the Middle East by European colonial powers, the formation of a new state system in the region, and how these events still reverberate to this day. The keynote presentation by Dr. Juan R.I. Cole will be followed by a conversation with FIU faculty experts, including Professors Eric Lob, Thomas Breslin, Naisy Sarduy and Carlos Grenier.
Juan R. I. Cole is the Richard P. Mitchell Collegiate Professor of History at the University of Michigan. For three and a half decades, he has sought to put the relationship of the West and the Muslim world in historical context. His most recent book is Muhammad: Prophet of Peace amid the Clash of Empires (Nation Books, 2018). He is also author of The New Arabs: How the Millennial Generation is Changing the Middle East (Simon & Schuster, July 2014), Engaging the Muslim World (Palgrave Macmillan, 2009), and Napoleon's Egypt: Invading the Middle East (Palgrave Macmillan, 2007), among others. He appears regularly on television news programs such as the PBS NewsHour, ABC World News Tonight, Nightline, The Rachel Maddow Show and many others. He has regular columns at The Nation and Truthdig. He has written widely about Egypt, Iran, Iraq, South Asia and the upheavals in the Arab World since 2011.
Co-sponsored by:

Mohsin & Fauzia Jaffer Center for Muslim World Studies | European & Eurasian Studies Program | Department of History | Department of Politics & International Relations

This event is free and open to the public. To RSVP, please click here.
For more information, please call 305-348-7266.