MEUCE Euro Challenge Competition 2019 - Semifinal & Final Rounds at the Federal Reserve Bank of NY
MEUCE Euro Challenge Competition 2019 - Semifinal & Final Rounds at the Federal Reserve Bank of NY
Event information

| | |
| --- | --- |
| Start: | |
| End: | |
| Venue: | Federal Reserve Bank of New York - 33 Liberty Street - New York, NY 10045 |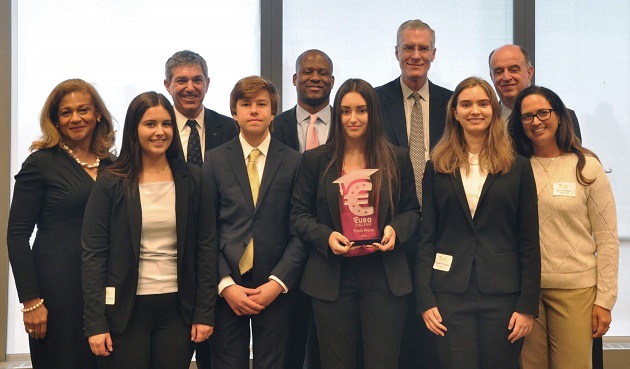 Congratulations to Gulliver Preparatory School for winning 3rd place at the final round!

This Floridian High School has been selected to compete in the national competition in New York City and won 3rd place in the final!

A total of 100 teams from 17 U.S. states (Connecticut, Florida, Illinois, Indiana, Iowa, Massachusetts, Michigan, New Hampshire, New Jersey, New York, North Carolina, Pennsylvania, Rhode Island, Virginia, Washington D.C., and Wisconsin) competed for cash awards. Regional competitions lead to the final rounds at the Federal Reserve Bank of New York on Thursday, May 2nd. 25 High Schools went to New York and Gulliver Preparatory School was selected and won the 3rd place in the final.
In addition to providing scholarships, the Moody's Foundation also sponsored a one-day trip to Washington DC for the top team to visit the Delegation of the European Commission, the Board of Governors of the Federal Reserve, and the International Monetary Fund.
Location: Federal Reserve Bank of New York - 33 Liberty Street - New York, NY 10045
At the Recognition and Awards Reception, on the 20th Floor of the Moody's Foundation (7 World Trade Center), the Florida team had the privilege to meet and talk to European Union Ambassador to the United States Stavros Lambrinidis, Head of Delegation, European Union Delegation to the United States of America.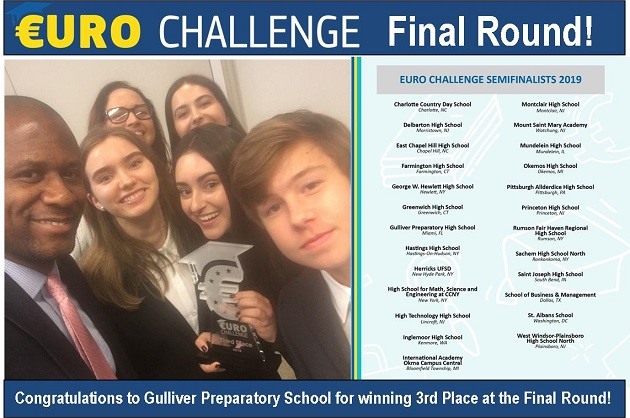 http://www.Euro-Challenge.org