MFJMCE Roundtable:Global epidemic,regional responses:Violence against women in the EU &the Caribbean
MFJMCE Roundtable:Global epidemic,regional responses:Violence against women in the EU &the Caribbean
Event information

| | |
| --- | --- |
| Start: | |
| End: | |
| Venue: | FIU - MMC - Green Library - GL 220 |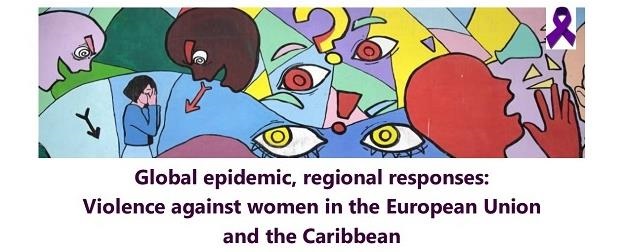 Panel Discussion on Global epidemic, regional responses:Violence against women in the European Union and the Caribbean
Gender-based violence affects a third of the globe's women. Cultural and ethical-normative, but also structural socio-economic and political factors continue to maintain and at times, exacerbate domestic violence. A panel of experts will discuss measures taken to reduce or eliminate violence against women in Europe and the Caribbean and compare and discuss policy approaches.
Panelists:

Celeste Montoya, Associate Professor, Faculty Director, Miramontes Arts & Sciences Program Women and Gender Studies, University of Colorado



Halimah A. F. DeShong, Head of the Institute for Gender and Development Studies, Nita Barrow Unit, University of West Indies- Cave Hill, Barbados



Melissa Boissiere, Graduate Student, FIU, M.A./PhD program in Latin American and Caribbean Studies (M.A.) and International Relations (PhD).




Moderator: Susanne Zwingel, Associate Professor, Dept. of Politics and International Relations, FIU


---------------------------------------------------------------------------------------------------------------------------------------------------------
This event is free and open to all FIU students, but you need to register.
Spaces are limited in GL 220

► For more information and to RSVP by Nov. 1st, please contact Christine I. Caly-Sanchez at calyc@fiu.edu

---------------------------------------------------------------------------------------------------------------------------------------------------------

► To view flyer, click here

► To view Panelists bios, click here

► To view PPT panelists, click on the following links:

---------------------------------------------------------------------------------------------------------------------------------------------------------

This event is sponsored by the Miami-Florida Jean Monnet Center of Excellence, and the Center for Women's and Gender Studies; and co-sponsored by the Politics & International Department, and the Women Studies, FIU