EESP- RKSBD Lecture Series: Choose Freedom
EESP- RKSBD Lecture Series: Choose Freedom
Event information

| | |
| --- | --- |
| Start: | |
| End: | |
| Venue: | FIU - MMC - Graham Center - GC 140 |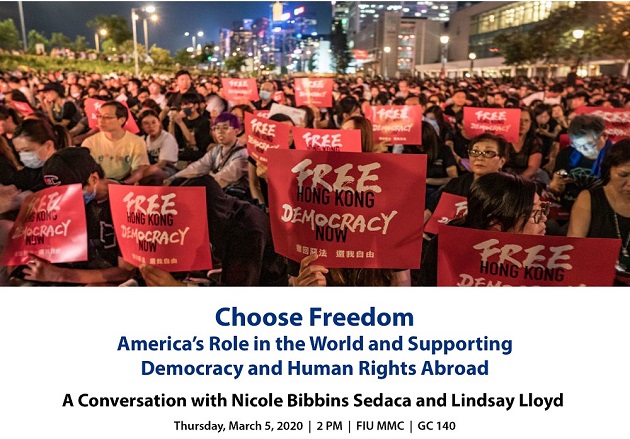 Supporting democracy and human rights has been a cornerstone of U.S. foreign policy that has enjoyed decades of bipartisan support. Encouraging democratic development and respect for human rights globally is essential to advancing universal values; this, in turn, advances U.S. interests and makes for a safer, more prosperous stable world. In recent years, however, the longstanding bipartisan consensus on U.S. democracy and human rights support has weakened at the same time that we see democracy under attack and in decline, based on Freedom House's rankings. The George W. Bush Institute's Human Freedom Initiative has authored a call to action aimed at revitalizing bipartisan consensus on America's role in the world and freedom, democracy, and human rights as key components of U.S. foreign policy. Please join us to engage with the authors of this report as they offer their policy recommendations and seek feedback from FIU students and faculty.


Nicole Bibbins Sedaca serves as the Chair for the Global Politics and Concentration in Georgetown University's Master of Science in Foreign Service program and is a Professor in the Practice of International Affairs in the program. She teaches graduate seminars on democracy, human rights, ethics and decision making. She is a Fellow in the Human Freedom Initiative at the George W. Bush Institute and a Senior Non-Resident Fellow at the Atlantic Council. She served for ten years in the United States Department of State, working on democracy promotion, human rights, human trafficking and religious freedom. Following her governmental service, she opened and directed the International Republican Institute's local governance program in Ecuador and taught at the Universidad de San Francisco de Quito (Ecuador) on democratization and conflict resolution.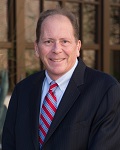 Lindsay Lloyd is the Bradford M. Freeman Director of the Human Freedom Initiative at the George W. Bush Institute, where he manages original research and programmatic efforts to advance freedom and democracy in the world. This includes the work of the Freedom in North Korea project, which raises awareness of human rights violations in North Korea, proposes new policy solutions and engages leaders to help improve the lives of the North Korean people. Previously, he served for 16 years at the International Republican Institute (IRI), most recently as senior advisor for policy. Previously, he was IRI's regional director for Europe and co-director of the regional program for Central and Eastern Europe, which was based in Slovakia. He also worked for several members and the leadership of the U.S. House of Representatives.
Moderator: David J. Kramer, Director, European & Eurasian Studies Program, and Senior Fellow, Vaclav Havel Program for Human Rights & Diplomacy
Presented in collaboration with the George W. Bush Institute Co-Sponsored by Vaclav Havel Program for Human Rights & Diplomacy, European & Eurasian Studies Program, Jack D. Gordon Institute for Public Policy.
The event is free and open to the public. For more information, please call 305-348-7266
To view flyer, click here