Conversations on Europe:Black, Red, Green: What to Expect in the German Federal Election?
Conversations on Europe:Black, Red, Green: What to Expect in the German Federal Election?
Event information

| | |
| --- | --- |
| Start: | |
| End: | |
| Venue: | Virtual |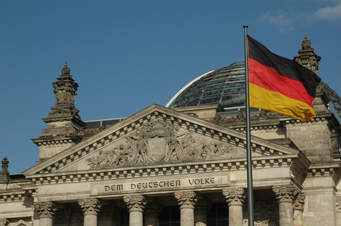 For the first installment of Conversations on Europe for 2021-2022 academic year, join us and the University of Pittsburgh for an interactive virtual roundtable discussion on what to expect for the German Elections.

Germans will vote on Sunday 26 September to elect a new Bundestag, or federal parliament. The result – after coalition negotiations likely to involve two or three parties – will decide who will succeed Angela Merkel, who is standing down after 16 years as chancellor.

Some recent polls put Germany's Green party in the lead, as Merkel's successor at the conservative CDU, Armin Laschet, struggles to inherit her appeal, but the governing party has since recovered a little ground.

German federal elections are proportional, so the share of vote given by polling companies should be read as translating fairly directly into share of seats in the resulting parliament. Only parties with less than 5% of the national vote, or less than three directly elected constituency seats, are not awarded proportional parliamentary seats.

More information is forthcoming.

_____________________________________________________________________________________________

► This event is free but you need to RSVP at calyc@fiu.edu
_____________________________________________________________________________________________

Hosted by European Studies Center, a Jean Monnet European Union Center of Excellence at the University of Pittsburgh

Co-sponsors and participating centers: The Miami-Florida Jean Monnet Center of Excellence at Florida International University, the Center for European Studies at the University of Florida, the Center for European and Transatlantic Studies at Georgia Tech, and the European Union Center at the University of Illinois, Urbana-Champaign.

Co-funded by the Erasmus+ Programme of the European Union