JMintheUS Webinar: The United Kingdom's Foreign Policy in Post-Brexit World
JMintheUS Webinar: The United Kingdom's Foreign Policy in Post-Brexit World
Event information

| | |
| --- | --- |
| Start: | |
| End: | |
| Venue: | Virtual |
The Miami-Florida Jean Monnet Center of Excellence would like to share this upcoming webinar organized by the SIS, the Transatlantic Policy Center, and the Institute for Carbon Removal Law & Policy. This event is part of the Jean Monnet in the US series, bringing together the network of EU-funded Universities in the US. #JMintheUS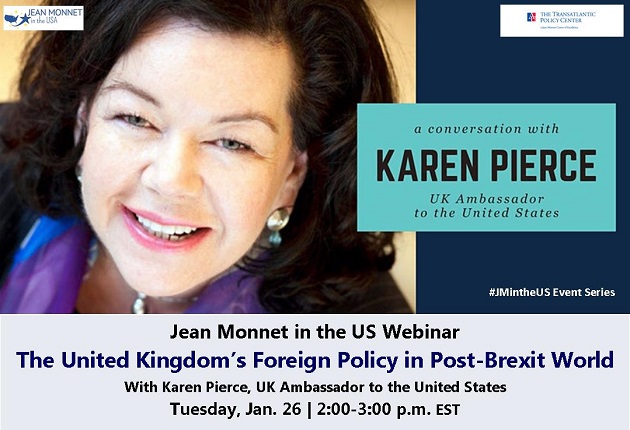 Join us for, "The United Kingdom's Foreign Policy in a Post-Brexit World: A Conversation with Ambassador Karen Pierce."
__________________________________________________________________________________________

To register, click here
__________________________________________________________________________________________

About this Event

The December 2020 deal between the United Kingdom and the European Union, after months of difficult negotiations, has finally brought an end to the Brexit saga. The United Kingdom, now formally out of the European Union, has an opportunity to carve a new foreign policy role for itself. But it will do so amidst a dangerous and unpredictable international environment, marked by the COVID-19 pandemic, Great Power competition, the continuing threat of climate change, and a new administration in Washington. H.E. Dame Karen Pierce, the United Kingdom's Ambassador to the United States, will discuss these subjects and more during a virtual conversation. Professors Michelle Egan, Garret Martin, and Simon Nicholson of SIS will moderate the event, including a Q&A with the audience.


Biographies


Karen Pierce is the current British Ambassador to the United States. The Ambassador represents Her Majesty The Queen and the UK government in the US and is responsible for the direction and work of the Embassy and its Consulates. Prior to this role, Pierce was the United Kingdom's Permanent Representative to the United Nations in New York since March 2018. Before that, she served as the Director General for Political Affairs and Chief Operating Officer of the Foreign and Commonwealth Office in London. Between 2015 and 2016, she was the UK's Ambassador to Afghanistan. In 2012, Pierce started her second multilateral role, this time in Geneva, where she was the Ambassador and Permanent Representative to the UK Mission to the United Nations, World Trade Organization and Other International Organisations until 2015.


Michelle Egan is an SIS professor who focuses on comparative politics and political economy. She works on Europe and the United States, with a focus on issues of federalism, trade, governance and law. She is past Chair and Vice Chair of EUSA, the EU Studies Association, and is editor of series on EU with Palgrave. She also is the co-director of SIS's Transatlantic Policy Center, a Global scholar at Wilson Center, and has been recipient of Wilson Fellowship.


Garret Martin is a senior professorial lecturer at SIS, and the Co-Director of the school's Transatlantic Policy Center. He has written widely on transatlantic relations and Europe, both in the field of history and contemporary affairs, and focuses in particular on security, US foreign policy, NATO, European politics, European foreign policy and defense, Europe, the European Union, France and the UK.



Simon Nicholson is an associate professor of international relations at SIS. His work focuses on global environmental governance, global food politics, and the politics of emerging technologies, including climate engineering and carbon removal technologies. He is co-founder of the Forum for Climate Engineering Assessment and the Institute for Carbon Removal Law and Policy, two scholarly initiatives of the School of International Service.
____________________________________________________________________________________________


This event is co-organized by SIS, the Transatlantic Policy Center, and the Institute for Carbon Removal Law & Policy.



This event is part of the Jean Monnet in the US series, bringing together the network of EU-funded Universities in the US. #JMintheUS