JMintheUS Webinar: Refocusing EU Tourism Post Brexit and COVID-19
JMintheUS Webinar: Refocusing EU Tourism Post Brexit and COVID-19
Event information

| | |
| --- | --- |
| Start: | |
| End: | |
| Venue: | Virtual |
The Miami-Florida Jean Monnet Center of Excellence would like to share this upcoming webinar organized by Colorado European Union Center of Excellence (CEUCE). This event is part of the Jean Monnet in the US series, bringing together the network of EU-funded Universities in the US. #JMintheUS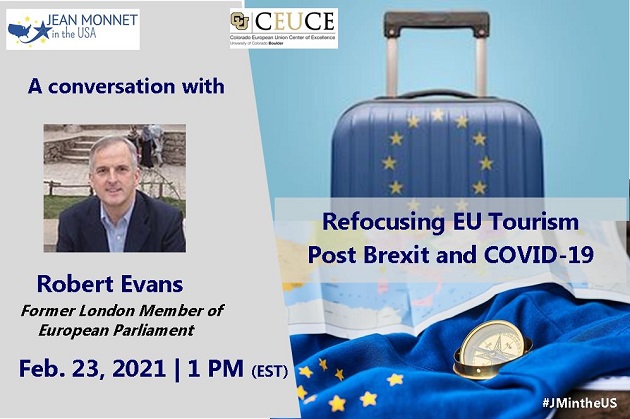 Following a decade of continual growth, the European tourism industry has been devastated by the effects of COVID-19 with nearly all EU countries seriously affected. The departure of the United Kingdom from the EU has further complicated the market with uncertainty in many areas as to how new reciprocal arrangements will work to facilitate UK travellers to the mainland and vice-versa.
The necessity for sustainable recovery for the tourism industry provides an ideal opportunity for Europe to refocus on safer and seamless travel, including for disabled passengers. In addition, there is a growing recognition to develop more sustainable transport and tourism – "greener holidays". In a post COVID-19 climate, it seems inevitable that the industry will need financial help and investment, but this may stimulate new methods of data management aiding for example the growth of multi-modal transport and destination management.
Join us for a discussion with Robert Evans, Former London Member of European Parliament.
Robert Evans was a Member of the European Parliament for the Labour and Co-operative Parties, representing London from 1994–2009 and is now Surrey County Councillor for Stanwell and Stanwell Moor. In the European Parliament he had a focus on Transport and Tourism, Citizens' Freedoms and Rights, Justice and Home Affairs and was Chairman of the European Parliamentary Labour Party from 2004 to 2007.
► Zoom link will be sent separately after you register here.