Building an International Affairs Career: the next steps
Building an International Affairs Career: the next steps
Event information

| | |
| --- | --- |
| Start: | |
| End: | |
| Venue: | SASC 305 |
The Miami-Florida Jean Monnet Center of Excellence would like to share this upcoming event in person organized by the Steven J. Green School of International and Public Affairs Career & Talent Development.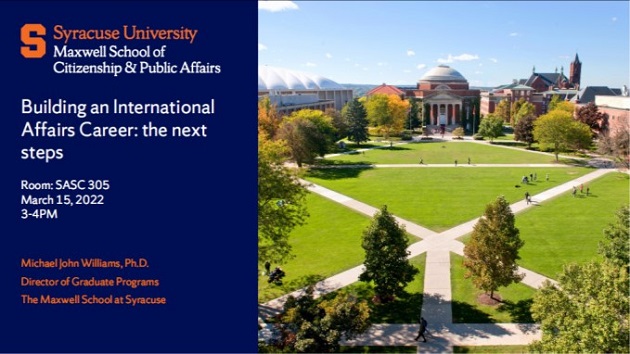 Congratulations – you've nearly finished your undergraduate education and that is a major achievement! But now what? What to do next? How exactly does one land that first job in the field of "international relations"? Actually, what even is "international relations"? Is it just diplomacy? What else does it involve? Can I do "international affairs" in the private sector? Should I get a graduate degree to be competitive in the field? Are their paid professional development opportunities that I can pursue after finishing my BA? What is the best path forward? Prof. Williams, from Syracuse University, will answer these questions and more!

About the Speaker


Michael John Williams is Associate Professor, Director of the International Relations Graduate Programs and Vice Chair of the Department of Public Administration and International Affairs at the Maxwell School at Syracuse University. He has been a term member of the Council on Foreign Relations in New York and a Senior Associate Scholar at the Center for European Policy Analysis in Washington D.C. He held a Bosch Fellow in the German Ministry of Defense, a Visiting Fellowship at the University of Oxford, and a DAAD Fellowship at the Bundeswehr Center for Social Science. He was also an investigator in the Sustainable Peacebuilding Network, a collaborative research project involving 20 scholars from six countries, funded by the Carnegie Corporation of New York. Before Maxwell, he was Clinical Professor and Director of International Relations at NYU, Associate Professor at the University of London and the Head of the Transatlantic Security Program at the Royal United Services Institute for Defense and Security Studies in London. He has consulted for policy-makers in the US, Canada, and across Europe. Educated at the University of Delaware, Hamburg, Bayreuth, Bath, Berlin, and Moscow, he earned his doctorate at the London School of Economics and Political Science.

To view flyer, click here

This event is organized by Steven J. Green School of International and Public Affairs Career & Talent Development and supported by the Miami-Florida Jean Monnet Center of Excellence.