Conversations on Europe: The French Election: What is at Stake?
Conversations on Europe: The French Election: What is at Stake?
Event information

| | |
| --- | --- |
| Start: | |
| End: | |
| Venue: | Virtual |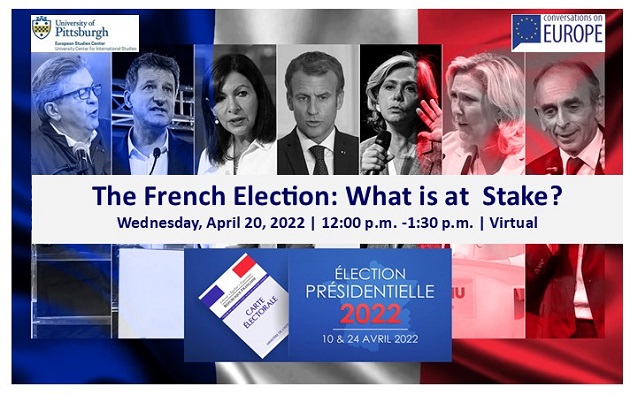 For this last Spring semester Conversations on Europe, join our experts for an interactive virtual roundtable discussion on the French elections. The French Election: What is at Stake?

On April 10th, France will hold a presidential election putting ideologies, personalities, and the future of France on the ballot. A run-off will be held on April 24th if no one secures a majority. The last Conversations on Europe for the 2021-22 academic year will focus on the ramifications of this election's outcome, how Russia's invasion of Ukraine will impact the election, and how this can shape the next decade not only of France but of Europe as a whole.

Panelists:

Jean Beaman, Associate Professor, Director of Undergraduate Studies, Sociology Department, University of California Santa Barbara

Arthur Goldhammer, Center for European Studies, Harvard University

Philippe Marliere, Professor of French and European Politics, University College London

Moderated by Allyson Delnore, University of Pittsburgh
_________________________________________________________________________________________

► This event is free but you need to RSVP at calyc@fiu.edu and register here

Affiliation:

If you are an FIU student, you must check that you are a Non-Pitt Undergraduate or a Non-Pitt Graduate Students (as relevant) under the affiliation.

If you are an FIU faculty member, please check Non-Pitt Faculty under the affiliation.

► For any further information, please contact Christine I. Caly-Sanchez calyc@fiu.edu
_______________________________________________________________________________________

Hosted by European Studies Center, a Jean Monnet European Union Center of Excellence at the University of Pittsburgh
Co-sponsors and participating centers: The Miami-Florida Jean Monnet Center of Excellence at Florida International University, the Center for European Studies at the University of Florida, the Center for European and Transatlantic Studies at Georgia Tech, and the European Union Center at the University of Illinois, Urbana-Champaign.
Co-funded by the Erasmus+ Programme of the European Union