Conversations on Europe:Reckoning with the Past I: Decolonizing the Curriculum in Europe
Conversations on Europe:Reckoning with the Past I: Decolonizing the Curriculum in Europe
Event information

| | |
| --- | --- |
| Start: | |
| End: | |
| Venue: | Virtual |
For the 2021-22 academic year, the European Studies Center has announced its annual programmatic theme: "Recovering Europe." Many of this year's virtual roundtables will speak to this theme. In the Fall semester, sessions will explore economic and public health issues related to Europe's recovery from the pandemic. In the Spring semester, sessions will consider different, and often uneven, attempts to reckon with and recover from the enduring legacies of European colonialism. The series will be bookended by sessions devoted to important elections impacting Europe.

For the first Conversations on Europe for Spring semester, join us and the University of Pittsburgh for an interactive virtual roundtable discussion on "Reckoning with the Past I: Decolonizing the Curriculum in Europe."

Panelists


Rowena Arshad
Professor Emerita
University of Edinburgh







Mohammed Bamyeh
Professor of Sociology and Religious Studies
University of Pittsburgh





Louie Dean Valencia
Assistant Professor of Digital History and Coordinator of the Center for Public History
Texas State University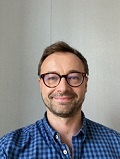 Paweł Lewicki
Faculty of Social and Cultural Sciences (Kuwi) Academic Staff Member
Europa-Universität Viadrina








Moderator


Allyson Delnore
Associate Director European Studies Center
University of Pittsburgh
___________________________________________________________________________________________

► To view flyer, click here

► This event is free but you need to RSVP at calyc@fiu.edu and register here

Affiliation:

If you are an FIU student, you must check that you are a Non-Pitt Undergraduate or a Non-Pitt Graduate Students (as relevant) under the affiliation.

If you are an FIU faculty member, please check Non-Pitt Faculty under the affiliation.

► For any further information, please contact Christine I. Caly-Sanchez calyc@fiu.edu
___________________________________________________________________________________________

Hosted by European Studies Center, a Jean Monnet European Union Center of Excellence at the University of Pittsburgh

Co-sponsors:

Miami-Florida Jean Monnet European Center of Excellence at Florida International University
EU Center at the University of Illinois at Urbana-Champagne
Center for European Studies at the University of Florida
Center for European Studies at the University of Texas – Austin
Center for European and Transatlantic Studies at the Georgia Institute of Technology

Co-funded by the Erasmus+ Programme of the European Union