EUSA Conference 2022 Miami - May 19-21, 2022
EUSA Conference 2022 Miami - May 19-21, 2022
Event information

| | |
| --- | --- |
| Start: | |
| End: | |
| Venue: | Miami |

On May 19-21, 2022, the Miami-Florida Jean Monnet Center of Excellence was the co-sponsor of the 2022 EUSA 17th Biennial Conference. The European Union Studies Association (EUSA) is the premier scholarly and professional association focusing on the European Union, the ongoing integration process, and transatlantic relations. Founded in 1988, EUSA now has over 600 members throughout North America, all EU member states, and all continents, representing the social sciences, the humanities, business and law practitioners, news media, and governments on both sides of the Atlantic.

The 2022 conference entitled "Recovery and Reconnection: European Integration Against the Tide" took place at the InterContinental Miami

The European continent, like many other parts of the world, faces key challenges: from the post-pandemic economic recovery to climate change, from the technological transition to growing geopolitical instability and uncertainty. These challenges do not stop at the border. To deal with them effectively, European leaders will have to coordinate their actions. Yet, moving forward in a coordinated fashion might not be easy. When facing these challenges, the EU needs to reconcile radically different views about the appropriate scope and depth of integration that exist both across and within member states.

The Call for Papers invited scholars to submit their work on crucial questions for Europe's future, including how EU institutions and member state governments shape the recovery, reconnect with citizens, neighbors, and allies, as well as foster geopolitical relationships.

During two days, more than 500 participants from the US, the EU, and other parts of the world gathered to present their papers and discuss their findings. Our Miami-Florida Jean Monnet Center of Excellence was actively involved both in the organization and several events before and during the conference.

The 2022 conference concluded with the EUSA Awards Presentations in the Bayfront Ballroom at the Inter-Continental hotel, followed by the 2022 EUSA Conference Reception, co-sponsored by our JMCE. More than 300 participants attended and enjoyed a delightful evening. On that occasion, we were honored to receive important authorities from Miami.

► Conference Program, click here

► For more information, click here

► To view pictures, click here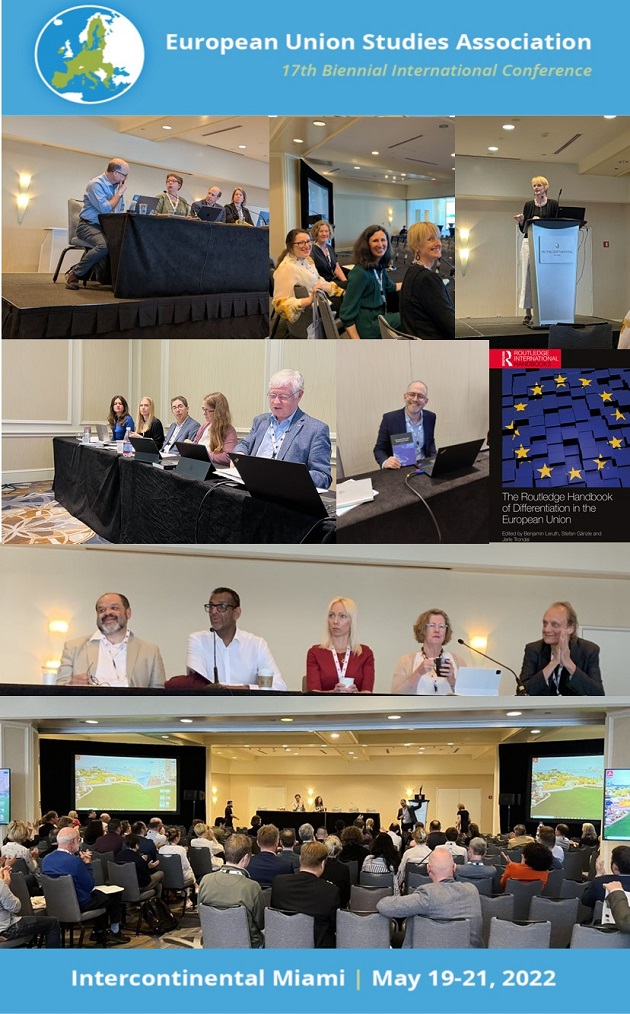 ___________________________________________________________________________________________

This conference is organized and co-hosted by the European Union Studies Association, University of Pittsburgh, and the Miami-Florida Jean Monnet Center of Excellence, FIU.

It is co-sponsored by: