Local Euro Challenge Competition for High Schools Virtually
Local Euro Challenge Competition for High Schools Virtually
Event information

| | |
| --- | --- |
| Start: | |
| End: | |
| Venue: | Virtual |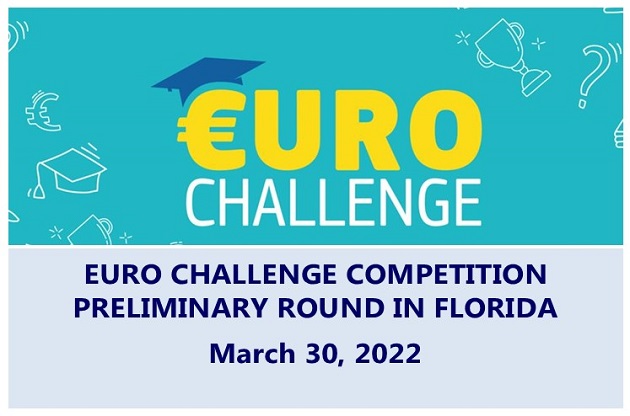 The Euro Challenge is a national competition for cash prizes where 9th and 10th grade high school students test their knowledge and understanding of the European economy and the Euro, the currency shared by many of the 27 countries of the European Union.
The Miami Florida Jean Monnet Center of Excellence is proud to organize the Florida regional competition for the Euro Challenge and partners with the Federal Reserve Bank of Atlanta-Miami Branch. The Miami-Florida Jean Monnet Center of Excellence has been participating in this wonderful project since the beginning. 2022 will mark the 17th anniversary of the Euro Challenge competition.
Christine I. Caly-Sanchez, Associate Director at the MFJMCE, is the recruiter and organizer of the competition in Florida. She has very proudly stated, "Since 2008, MFJMCE has selected one hundred seven Florida high schools from Miami-Dade, Broward, Palm Beach, St. Lucie, Lee, Orange, and Alachua counties, and sent twenty-three to New York to compete nationally. One hundred twenty four students have gone to New York representing their Florida schools. This competition has become a showcase for our Florida schools. We are extremely proud of our schools in Florida."
Amid COVID-19, the competition was virtual in 2020, 2021. This year, the preliminary round took place virtually on March 30, but the semi-finals and final competitions will take place in person in New York in May.
_______________________________________________________________________________________
Student teams will be asked to make 15-minute presentations during which they are required to:

Describe the current economic situation in the euro area.
Select one economic-related challenge confronting the euro area as a whole (see list below), and pick one of the 19 member countries of the euro area to illustrate that challenge.
Recommend a policy or policies for addressing the challenge you identified in the country you selected. Be sure to include in your recommendation a discussion of how having a single currency may or may not affect the policy choices for addressing the challenge.

Teams will choose one of the following economic-related challenges:
CHALLENGES

Climate Change and Going Green
Demographics and Aging Population
What Role does Fiscal Policy Play in Promoting Economic Growth
Living with a Single Monetary Policy
Tackling High Youth Unemployment
Managing Migration Flows
Inequality, Social Mobility and the Gender Gap
Innovating for Long Term Growth and the Future of Work
Covid-19 Crisis and its Impact on the Economy

_______________________________________________________________________________________

Congratulations to Florida high school PK Younge Developmental Research School that has been selected at the Preliminary round South Euro Challenge Competition on March 30, and will advance to the semi-finals & final Euro Challenge Competition in NY on May 19. We are proud of you:

Isabella Lemos
Lucy Callahan
Harper Jose
Valeria Andrade
Isabella Acuna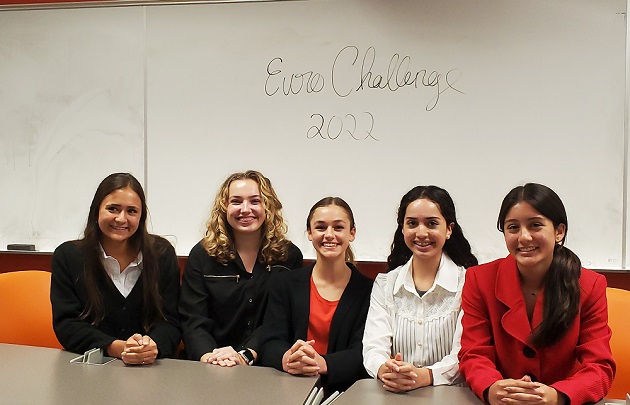 _______________________________________________________________________________________

To learn more about Euro Challenge, please visit euro-challenge.org

For more information on the competition in Florida, please contact Christine I. Caly-Sanchez at calyc@fiu.edu