MEET EU Emerging Filmmaker Vida Skerk
MEET EU Emerging Filmmaker Vida Skerk
Event information

| | |
| --- | --- |
| Start: | |
| End: | |
| Venue: | FIU-MMC | PC 214 |
Join the Miami-Florida Jean Monnet Center of Excellence and meet the 2022-2023 MEET-EU Filmmaker-in-Residence Vida Skerk, followed by a screening of her movie "Night Ride (Noćna vožnja)."
Program
2:00 - 2:05 PM : Welcoming remarks and introduction of the MEET EU Filmmaker by Christine I. Caly-Sanchez
2:05 - 2:15 PM : Remarks by MEET EU Filmmaker in residence Miss Vida Skerk
2:15 - 2:40 PM : Movie Screening: Night Ride (Noćna vožnja)
2:40 - 3:00 PM : Conversation with the filmmaker

Synopsis

Night Ride (Noćna vožnja) explores quarter-life identity crisis through the perspective of a twentysomething student in Croatia. Dunja, the main character, questions her decision to move to a bigger city and regrets leaving behind the safety of her hometown where she could always count on the support of her close friend, Sara. Exploring the "borders" and boundaries of the film medium itself, the film is constructed as a series of dreams and nightmares which evade a linear narrative structure, and retain the qualities of a more stream-of-consciousness type of approach, presenting to the viewer Dunja's inner world in its most authentic, raw and honest form.

Night Ride is a 24 min short film made as an exam project from Academy of Dramatic Arts in Zagreb, Croatia.

Cast:

Nika Barišić Dorotea Ilečić Sever Jan Krevatin

Producer: Antonio Grozdanoski Director: Vida Skerk Screenwriter: Vida Skerk Director of Photography: Urh Pirc Editor: Lucija Strugar Sound designers and Editor: Ema Veseljak

About the MEET EU Emerging Filmmaker: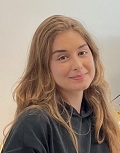 Vida Skerk is a graduate student and Film TV Directing at the Academy of Dramatic Art in Zagreb, Croatia. She was born in Trieste, Italy, in 1999. She is the author of a dozen short films, both documentaries and fiction, such as Night Ride, Rosebud, and Hister, which were screened at multiple festivals. Night Ride (Noćna vožnja) is the film with which Skerk applied this residency. More information on Vida Skerk, click here

___________________________________________________________________________________________

► To watch the trailer of Vida Skerk's Night Ride, click here

► To view flyer, click here
___________________________________________________________________________________________

► To REGISTER and for more information, contact Christine I. Caly-Sanchez at calyc@fiu.edu