SFWAF Winter Webinar Series: EU Humanitarian Aid in Afghanistan
SFWAF Winter Webinar Series: EU Humanitarian Aid in Afghanistan
Event information

| | |
| --- | --- |
| Start: | |
| End: | |
| Venue: | Virtual |
The Miami-Florida Jean Monnet Center of Excellence would like to share this upcoming webinar organized by Sante Fe World Affairs Forum.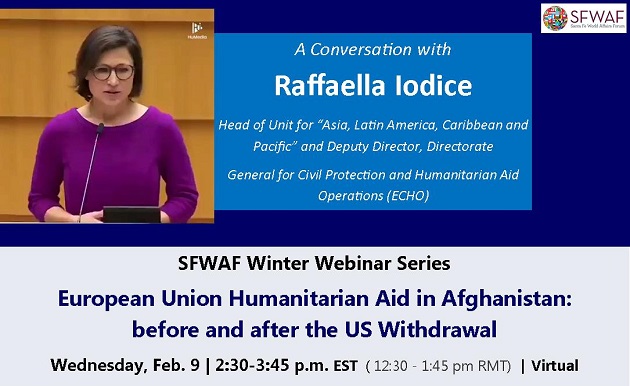 Although the US completed withdrawal of all its military forces and civilian personnel from Afghanistan on August 30,2022, the European Union was also involved in the larger evacuation multinational operation that took place at the Hamid Karzai International Airport in Kabul in August. Since then, the EU has continued to contribute humanitarian aid to Afghanis still living in the country. Raffaella Iodice not only was part of the EU evacuation endeavours in August, but subsequently participated in Doha-EU negotiations as well as in talks with partners and the Talib in Kabul in December to help facilitate European humanitarian aid reach the Afghanis who need it most. Ms Iodice, an internationally respected specialist of development in war-torn countries, is currently based at the European Commission in Brussels from where she will be conducting this webinar. In it, she will share some of the EU experience gained and lessons learned as a part of her work in and on Afghanistan.

This is the first webinar in their Afghanistan in the Aftermath series which Sante Fe World Affairs Forum will be holding throughout February and part of March 2022 on Wednesdays from 12:30-1:45 (Mountain Time).

About the Speaker


Raffaella Iodice presently serves as Head of Unit for "Asia, Latin America, Caribbean and Pacific" and Deputy Director at the Directorate General for European Civil Protection and Humanitarian Aid Operations (ECHO) after serving as Head of the "Middle East/Gulf, South Asia and Central Asia" at the European Commission "Development and International Cooperation" department (INTPA).
Born in Italy, she left her home just after graduating from high school, to attend the university in Brussels (ULB). Just after her final University degree, in 1991, she joined the European Commission. Over the years, Raffaella has become an internationally respected specialist of development, particularly in the areas of war-torn countries and the Middle East. She has held posts in Palestine during the second Intifada (from 2002 to 2007), where she was in charge of development cooperation activities and relations with the Palestinian Authority, and in Egypt (from end of 2007 to end 2011), where she managed political and development relationships with the government. She lived in Cairo during the Tahir revolution and once back to Brussels at the end of 2011, she has been actively involved in all EU activities in the region during the so-called Arab Spring. She has also served as Head of Unit for the Mediterranean countries with frequent travels to Libya, Syria, Lebanon, Morocco, Palestine...
In her capacity, she is now actively involved also in Afghanistan, Uzbekistan, Pakistan and Iraq, countries she regularly visits.
She commands several languages. Among them: French, English, Spanish, German, Hebrew and some Arabic.
_________________________________________________________________________________________

When: Feb 9, 2022 | 2:30 PM EST (12:30 PM Mountain Time) (US and Canada)

Topic: Afghanistan in the Aftermath: European Union Humanitarian Assistance
__________________________________________________________________________________________

REGISTRATION INFORMATION

Register in advance for this webinar:


https:/us02web.zoom.uswebinar/register/WN_QYWTu5TQTfC9202tOpy2XA
After registering, you will receive a confirmation email containing information about joining the webinar.
__________________________________________________________________________________________


This event is organized by Sante Fe World Affairs Forum