Conversations on Europe: Climate Change and Migration-What can the U.S. learn from Europe?
Conversations on Europe: Climate Change and Migration-What can the U.S. learn from Europe?
Event information

| | |
| --- | --- |
| Start: | |
| End: | |
| Venue: | Virtual |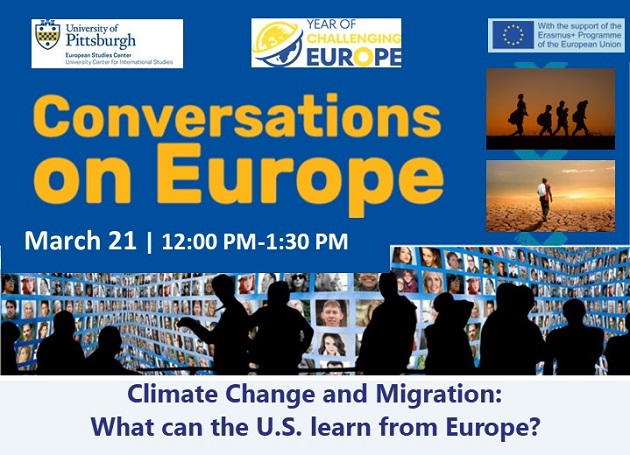 As North and Central America increasingly experience climate change and disasters (fires, hurricanes, drought, rising waters from the Great Lakes and Atlantic Ocean), the US has come to realize what our European colleagues have been experiencing as they have been at the forefront of the accelerating trend of global displacement related to climate change. The pre-covid years of 2015-2016 saw the highest peak of immigration into Europe. Last year President Biden signed an executive order 14013 "Rebuilding and Enhancing programs to resettle refugees and planning for the impact of climate change on migration". With the release of the report, it was the first time the U.S. Government officially reported on the link between climate change and migration. While no nation offers asylum to climate migrants, the UN High Commission on Human Rights has published legal guidelines for offering protection to people displaced by the effects of global warming. Additionally, several of the 169 targets established by the UN's Sustainable Development Goals (SDGs) lay out general goals that could be used to protect climate migrants. The panel will be an informal discuss of how Europe's experience with climate change and migrants can inform the United States.

The organizer and moderator of the Panel is Mary Rauktis, Research Associate Professor, School of Social Work, University of Pittsburgh

Panelists:

Carla Malafaia, Assistant Researcher, University of Porto, Portugal
Cosmin Nada, Research Fellow at CIIE-FPCEUP, University of Porto, Portugal

Sheila Velez Martinez, Jack and Lovell Olender Professor of Asylum Refugee and Immigration Law, School of Law, University of Pittsburgh


__________________________________________________________________________________________

► To view flyer, click here

► This event is free but you need to RSVP at calyc@fiu.edu and register here

► For any further information, please contact Christine I. Caly-Sanchez calyc@fiu.edu
___________________________________________________________________________________________

Hosted by European Studies Center, a Jean Monnet European Union Center of Excellence at the University of Pittsburgh

Co-sponsors and participating centers: The Miami-Florida Jean Monnet Center of Excellence at Florida International University, the Center for European Studies at the University of Florida, the Center for European and Transatlantic Studies at Georgia Tech, and the European Union Center at the University of Illinois, Urbana-Champaign.

Co-funded by the Erasmus+ Programme of the European Union