EESP Roundtable: Europe's New Challenge: Accommodating Three Waves of Refugees
EESP Roundtable: Europe's New Challenge: Accommodating Three Waves of Refugees
Event information

| | |
| --- | --- |
| Start: | |
| End: | |
| Venue: | In-person - Room GC 355 |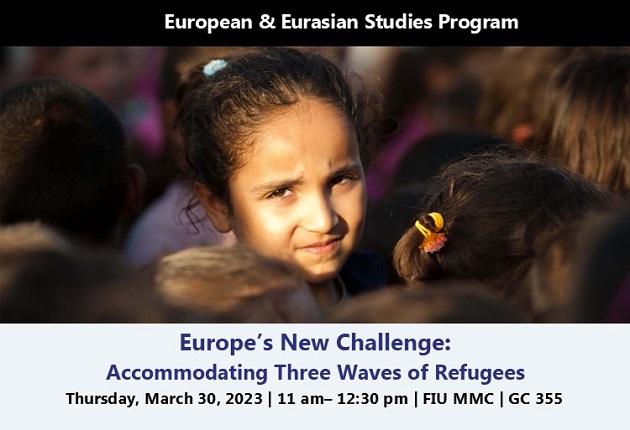 In this Roundtable, three European experts will discuss what challenges Europe is facing with accommodating three waves of refugees (Ukrainians, Middle Easterners, and Russians).

Since the beginning of Russia's War in Ukraine, new waves of migrants fled their homes in the East to flee to the West. Europe has been flooded by Ukrainian women and children seeking shelter from bombing and death, by Russian citizens trying to avoid mobilization in the army, and by Middle Easterners and North Africans running away from destruction and hunger. This panel discussion with scholars will address these dynamic developments happening on the old continent. The discussion will focus on the different sociological profiles of the refugees, their acceptance by national governments and civil society, and the challenge faced by the EU to accommodate and protect the migrants' human rights in the midst of an unprecedented energy crisis. 

Panelists:


Jussi P. Laine, Ph.D.
Professor, Title Docent
Project Coordinator, MATILDE
President, World Social Science Association
Karelian Institute, University of Eastern Finland



Russell R. Lucas, Ph.D.
Professor of International Relations and Global Studies
James Madison College and the College of Arts & Letters
Michigan State University



Steven D. Roper, Ph.D.

Professor
Department of Political Science
Florida Atlantic University


Moderator:


Tatiana Kostadinova, Ph.D.
Professor
Department of Politics and International Relations
Director, European & Eurasian Studies Program
Florida International University
___________________________________________________________________________________________

To view flyer, click here

To view panelists' bios, click here

Free and open to the Public and FIU students

For more information, contact Christine I. Caly-Sanchez at calyc@fiu.edu
________________________________________________________________________________________

Sponsored and presented by:
The European & Eurasian Studies Program

Co-sponsors:
Steven J. Green School of International & Public Affairs
Dorothea Green Lecture Series
Václav Havel Program for Human Rights and Democracy
Miami-Florida Jean Monnet Center of Excellence
Department of Politics and International Relations