MEET EU: West Coast Model EU-Seattle
MEET EU: West Coast Model EU-Seattle
Event information

| | |
| --- | --- |
| Start: | |
| End: | |
| Venue: | University of Washington, Seattle, WA |

The West Coast Model European Union is an annual simulation of a European Council summit, bringing together undergraduate students from across the United States. Students, in teams of two, play the roles of representatives of European Union Member State delegations, and also the European Commission. Participants negotiate two issues of concern for the country holding the Presidency, Sweden (holding the presidency from January-June).

► Four of our students have been selected by the Miami-Florida Jean Monnet Center of Excellence, and participated in the West Model EU competition on March 3-4, 2023. They represented the delegations of Portugal and Romania.

Lauren Cibrian Castro
Jose de Castro
Vicki Gargano
Sophia Gonzalez

Jose de Castro and Vicki Gargano represented Portugal and Lauren Cibrian and Sophia Gonzalez were assigned Romania. A special recognition goes to Sophia Gonzalez who received the Outstanding Interior Minister Award.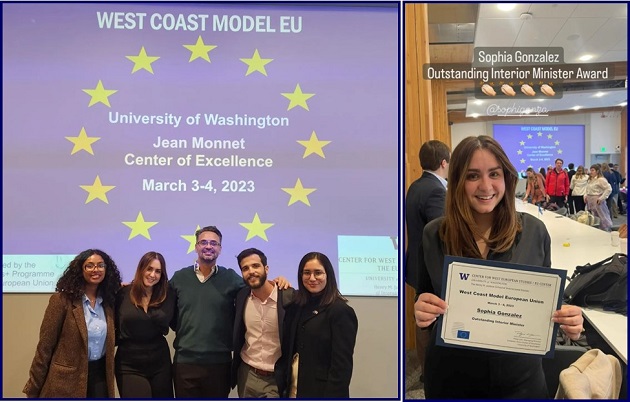 ► More information, click here