During the six-month period - July 1st - December 31st, 2020, Germany will lead the work of the Council, building co-operation and agreement between Member States in a spirit of consensus and mutual respect.
The coronavirus represents a significant challenge for the EU and immediate management of the pandemic and recovery are at the heart of the German programme for the presidency.
The aim is to reach a swift agreement on the recovery fund and the EU's budget 2021-2027. Germany intends to make progress on climate protection, through the European Green Deal, and economic and social digitalisation. With a focus on Africa and relations with China, it also wants Europe to take more global responsibility and strengthen its role in the world. Another priority will be future EU-UK-relationshttps://www.europarl.europa.eu/news/en/headlines/priorities/eu-response-to-coronavirus.
_____________________________________________________________________________________________

► The priorities of Germany's presidency are driven by its motto:"Together for Europe's recovery".
_____________________________________________________________________________________________

The presidency programme focuses on six main areas:
- Overcoming the coronavirus crisis in the long term as well as economic recovery
- A stronger and more innovative Europe
- A fair Europe
- A just and sustainable Europe

- A Europe of security and common values

- A strong Europe in the world

The German presidency of the Council of the EU will focus directly on overcoming the COVID-19 pandemic. Fighting the spread of the virus, supporting the European economy to recover and reinforcing social cohesion in Europe. In order to achieve this, Germany is committed to joint approved action, European solidarity and common values.​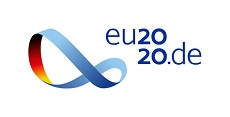 ► To view program, click here
► To view focus areas, click here
► More information about the Germany Presidency can be found here.

► About the Trio Presidency, click here