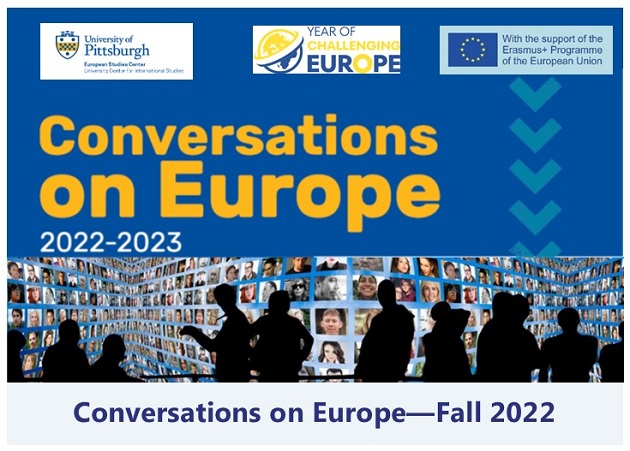 For the 2022-23 academic year, the European Studies Center has announced its annual programmatic theme: "Challenging Europe." All the conversations for the coming year discuss challenges facing Europe and all are being organized by faculty affiliates of the European Studies Center at the University of Pittsburgh. Topics cover such varied subjects as effects of Brexit, environmental issues, democracy in Europe, migration, and recovery of Nazi-looted art.

The Miami-Florida Jean Monnet Center of Excellence at FIU, along with other European Union Centers of Excellence from the U.S. will participate.

In the Fall semester 2022, we will be able to connect with experts on Europe via virtual roundtable for four conversations from 12:00 PM to 1:30 PM Eastern time zone on Tuesdays:

Below are the dates, titles, and names of organizers. More information will be available before each Conversation.

Tuesday, September 20 | 12:00 p.m. - 1:30 p.m.
"The U.K. after Boris (and the Queen)" — Jae-Jae Spoon, Political Science
Register Here

Tuesday, October 11 | 12:00 p.m. - 1:30 p.m.
"Business after the Fall: Challenges of East German Companies"— Jan Musekamp, History
Register Here

Tuesday, November 8 | 12:00 p.m. - 1:30 p.m.
"A Just Transition for Clean Energy" — Michaël Aklin, Political Science
Register Here

Tuesday, December 6 | 12:00 p.m. - 1:30 p.m.
"State of Democracy in Europe" — Mohammed Bamyeh and John Markoff, Sociology
Register Here


To view flyer of 2022-2023 program, click here
_________________________________________________________________________________________

These events are free and open to all FIU students
Prior RSVP at calyc@fiu.edu is mandatory to join the conversation
_________________________________________________________________________________________

Hosted by: European Studies Center, a Jean Monnet European Union Center of Excellence at the University of Pittsburgh

Co-sponsors:

Miami-Florida Jean Monnet European Center of Excellence, Florida International University;
EU Center at the University of Illinois at Urbana-Champagne;
Center for European Studies at the University of Florida;
Center for European Studies at the University of Texas – Austin;
Center for European and Transatlantic Studies at the Georgia Institute of Technology