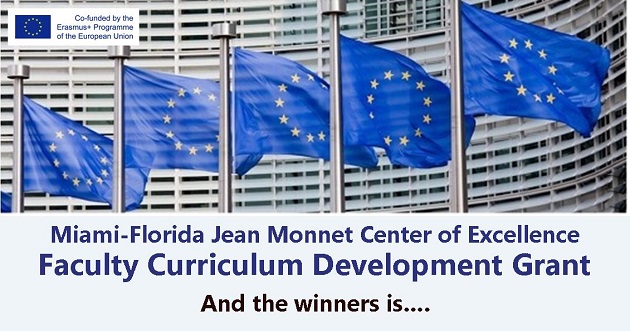 The Miami-Florida Jean Monnet Center of Excellence offers Faculty Curriculum Development grant for full-time facutly to enhance the study of the European Union by creating EU-focused courses or infusing knowledge of the EU into university curricula. The following institutions in Florida are eligible to apply:

Florida International University (FIU)
Florida Atlantic University (FAU)
University of Central Florida (UCF)
University of South Florida (USF)
University of North Florida (UNF)

This year, the jury committee has awarded the Faculty Curriculum Development Grant to a faculty from Florida Atlantic University (FAU), Dr. Ilaria Serra. Congratulations!

FACULTY CURRICULUM DEVELOPMENT AWARD 2020 GRANTEE


Dr. Ilaria Serra
Associate Professor of Italian Studies
Department of Languages, Linguistics and Comparative Literature (LLCL)
Dorothy F. Schmidt College of Arts & Letters
Florida Atlantic University

Research: European Movement: Films of Immigration around the Mediterranean (didactic package)

______________________________________________________________________________________________________________________________________

► For more information on the Faculty Curriculum Development Grant, click here



Funded by the European Union