The U.S. Department of State / Virtual Student Foreign Service Internship Program
The U.S. Department of State / Virtual Student Foreign Service Internship Program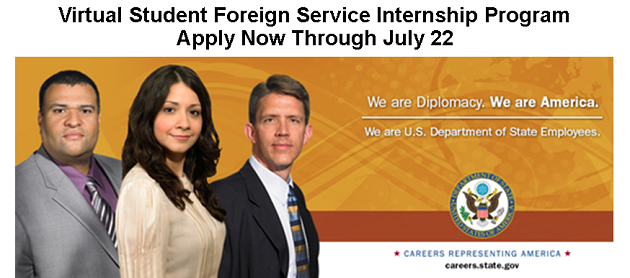 The U.S. Department of State is currently accepting applications from students for their Virtual Student Foreign Service Internship Program.

The U.S. Department of State's Virtual Student Foreign Service (VSFS) eInternship program is bigger and better than ever! This year, we have over 900 vacancies at 30 U.S. Government agencies. The 309 projects available this year can be found here. Students can apply between July 2 – 22 on USAJobs to their top three projects.
VSFS is a way for the American public and government employees to collaborate on projects of global importance. Selected applicants will contribute up to 10 hours per week from September 2016 through May 2017 working on projects from a U.S. Mission abroad or a domestic government office. As eInterns, students will play an important role in advancing the federal government's reach in diplomacy, development, space, journalism, trade, environment, health, agriculture, technology, housing and other essential initiatives. Together, we can create a more effective, efficient, and smarter government that takes advantage of an engaged and participatory citizenry.
Applicants must be U.S. citizens enrolled in university level courses in the U.S. or abroad. Last year, we had students in programs ranging from undergraduate to PhD levels, both full and part-time, taking courses in person or online. A resume, transcript, and statement of interest are required as part of the application process. Interviews may be conducted in August. eInternships are unpaid and do not require a security clearance or travel.
The following agencies are participating in the 2016-17 VSFS program:
Agency for International Development (USAID)
Agriculture Department (USDA)
American Battle Monuments Commission (ABMC)
Broadcasting Board of Governors (BBG)
Census Bureau (USCB)
Central Intelligence Agency (CIA)
Commerce Department (DOC)
Defense Health Agency (DHA)
Department of Defense (DOD)
Department of State (STATE)
Education Department (DOE)
Environmental Protection Agency (EPA)
Federal Student Aid (FSA)
General Services Administration (GSA)
Geological Survey (USGS)
Health and Human Services (HHS)
Housing and Urban Development (HUD)
Internal Revenue Service (IRS)
National Aeronautics and Space Administration (NASA)
National Archives and Records Administration (NARA)
National Library of Medicine (NLM)
National Oceanic and Atmospheric Administration (NOAA)
National Parks Service (NPS)
National Science Foundation (NSF)
Office of Personnel Management (OPM)
Patent and Trademark Office (USPTO)
Peace Corps (PC)
Smithsonian Institution (SI)
Veterans Affairs Department (VA)
Visit our forums if you have any questions, or to search for topics of interest. The forums can be found under Connect on the careers.state.gov website. You can also search our FAQs for more information.
We appreciate your interest in the U.S. Department of State.