Blanka Rosenstiel Lecture Series: Book Presentation
Blanka Rosenstiel Lecture Series: Book Presentation
Event information

| | |
| --- | --- |
| Start: | |
| End: | |
| Venue: | Books and Books Coral Gables |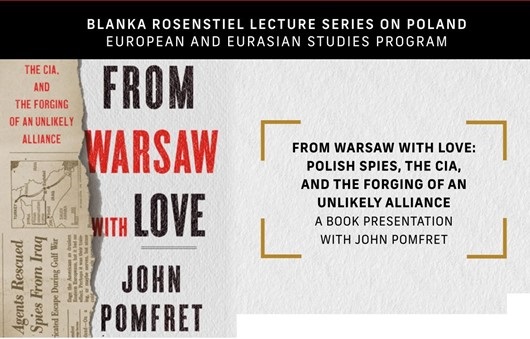 "From Warsaw, With Love" describes how special forces operatives from Poland were carefully chosen and sent to seamlessly rescue six U.S. intelligence officers during Operation Desert Storm in Iraq in 1990. Pomfret's delineation of this particular mission examines how two nations - who were once at odds - were able to establish a new frame-work via this unique 'blood bond' which occurred through the most inconceivable circumstances.
Mr. Pomfret will discuss the book & entertain a few questions from guests. The presentation will be followed by a wine reception.
Please click on the RSVP button below to register for this FREE event. Registration is required as seating is limited!



John Pomfret is an award-winning journalist and was a foreign correspondent for over 20 years. His education and expertise have affirmed his impact as a well regarded author, with such works as: The Beautiful Country and Middle Kingdom: America and China, 1776 to the Present (2016), which received the 2017 Arthur Ross Award by the Council on Foreign Relations. This event will be his first, live book-signing in Florida!





Co-sponsors:
American Institute of Polish Culture Honorary Consulate of the Republic of Poland in Miami Books and Books