JM Project: "Accelerating Smart Cities"
JM Project: "Accelerating Smart Cities"
Wednesday, April 20, 2016 | 8:30 a.m. - 10:30 a.m. | Miami Downtown Gray Robinson Attorneys at Law
"Accelerating Smart Cities": environment, safety, transport, utilities & buildings - Breakfast-Workshop

Presentations by:
Dr. James Gavigan, Minister-Counselor Research & Innovation Delegation of the European Union to the United States Washington DC
Dr. S. S. Iyengar, Distinguished Ryder Professor and Director of the School of Computing and Information Sciences, Florida International University
Dr. Karen Lee, MD, MHSc, Health + Built Environment + Social Determinants Consulting, based in NY & NJ; Special Advisor, World Health Organization offices; Adjunct Professor, Schools of Public Health, University of Toronto and University of Alberta, Canada; Course Instructor and Lecturer, Columbia University, NYC
Danilo Nanni, PE, Structural Engineer, Expert in Smart Building Structures, and Associate at DeSimone Consulting Engineers
Dr. Haydn Thompson, Managing Director THHINK Wireless Technologies Ltd, UK
Moderator: Dr. Robin Mishra, Minister-Counselor, Head of Section Science and Technology Embassy of the Federal Republic of Germany, Washington DC

Experts on "Smart Cities" met with Miami-Dade Community at large. This workshop discussed environment, safety, transportation,utilities, and buildings. The latest environmental techniques that can produce sustainable and cost-effective urban policies was also discussed, as well as the application of the latest technology in order to provide the safest and most efficient for the security of city residents. Furthermore, the mobility of people, taking into consideration low-carbon technologies and the development of freight transport and logistics was discussed. Lastly, ideas for improving or replacing our energy grids in order to help power our cities more efficiently at a minimum cost to consumers and innovative construction techniques that will lead to better quality of life for residents are under consideration. During the workshop, participants had the opportunity to discover the latest calls on "Smart Cities" offered by the European Commission under the framework programme for research and innovation, Horizon 2020.

For more information, click here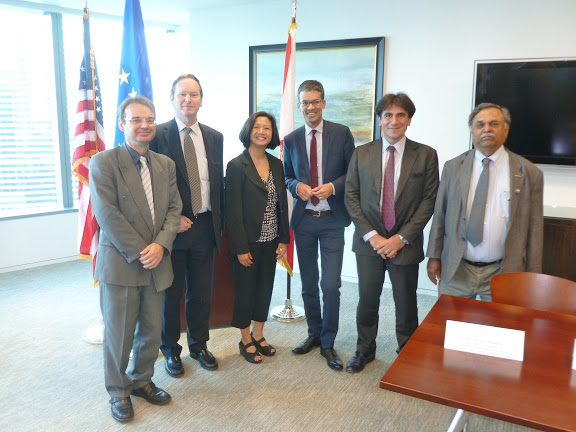 ---------------------------------------------------------------------------------------------------------------------------
Wednesday, April 20, 2016 | 11:45 a.m. - 2:00 a.p. | Miami Downtown The Beacon Council
"Accelerating Smart Cities": environment, safety, transport, utilities & buildings - Luncheon-Workshop

Presentations by:
Dr. James Gavigan, Minister-Counselor Research & Innovation Delegation of the European Union to the United States Washington DC
Dr. Karen Lee, MD, MHSc, Health + Built Environment + Social Determinants Consulting, based in NY & NJ; Special Advisor, World Health Organization offices; Adjunct Professor, Schools of Public Health, University of Toronto and University of Alberta, Canada; Course Instructor and Lecturer, Columbia University, NYC
Danilo Nanni, PE, Structural Engineer, Expert in Smart Building Structures, and Associate at DeSimone Consulting Engineers
Dr. Haydn Thompson, Managing Director THHINK Wireless Technologies Ltd, UK
Moderator: Dr. Robin Mishra, Minister-Counselor, Head of Section Science and Technology Embassy of the Federal Republic of Germany, Washington DC